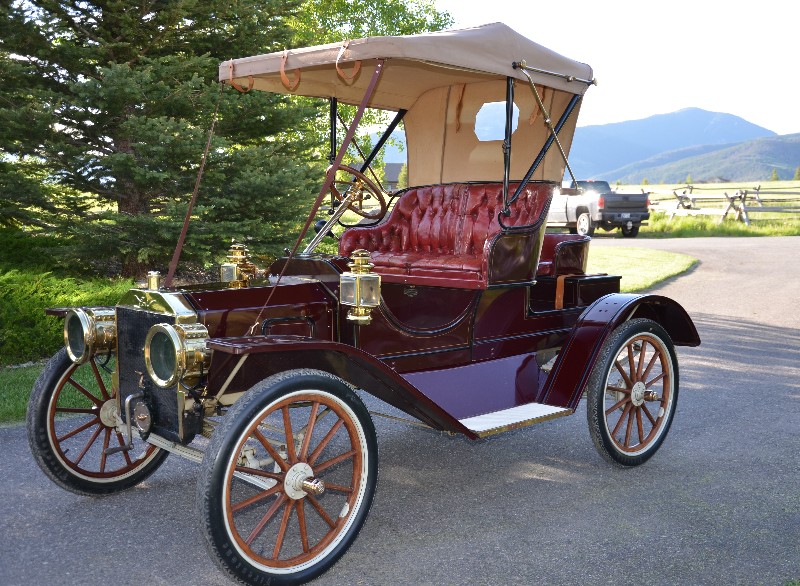 This 1908 Ford Model "S" Roadster is in beautiful condition!  It's a lovely example of Ford's pre-model T era.  This car is not only in excellent condition, it is a fascinating window into the technical aspects of Ford's designs in the approach to model "T" production.
Let's watch it in Action!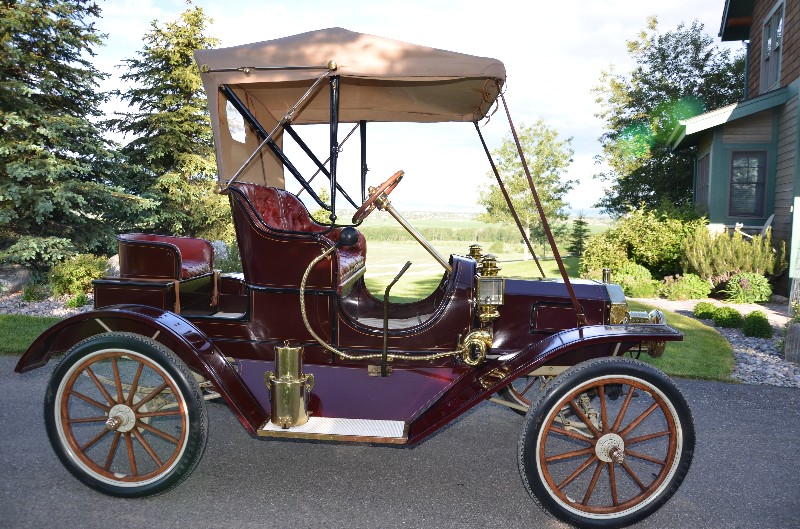 This particular car , # 2040, was shipped on June 30, 1908, to the Gibson Auto Co. of Indianapolis, Indiana.  Gibson Ordered 12 cars from Ford in that batch, and this is one of them.  The Model "S" was the last of the so called "Alphabet Fords"  of the pre-1909 era, which included model A,B,C,E,F,K,N,R and S.   Why no D,G,H,I,J,L,M,O,P,Q ?  Only Henry knows and he's not available for conferencing anymore!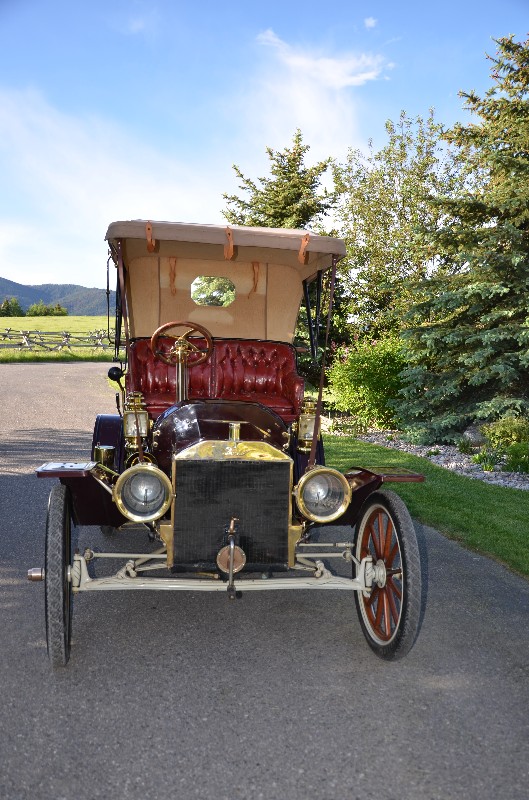 This view shows many interesting features, like the crank going right through a bezel in the radiator, the acetylene headlamps, and transverse mounted leaf spring. The Model S was the only Ford of that year to have a curved steel cowl.  ( the "R" and "N"  had flat wood firewall / cowls ).   the Top was optional!  It should also be noted that Red and Green were the factory colors for the "S", aparently pre-dating Henry's legendary "any color you want as long as it's black" rant.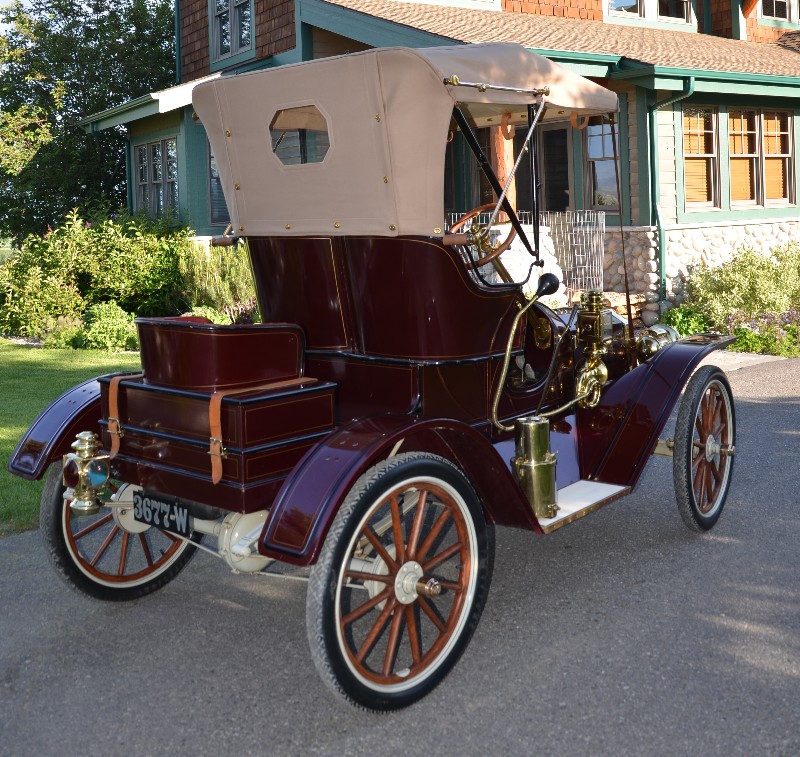 Here's an excellent view of the rear seat.  This seat made this car a Roadster, which cost an extra fifty bucks, for a total FOB Detroit price of $750.  The base version of the model "S" was called the Runabout, which only had the 2 front seats, and cost $700.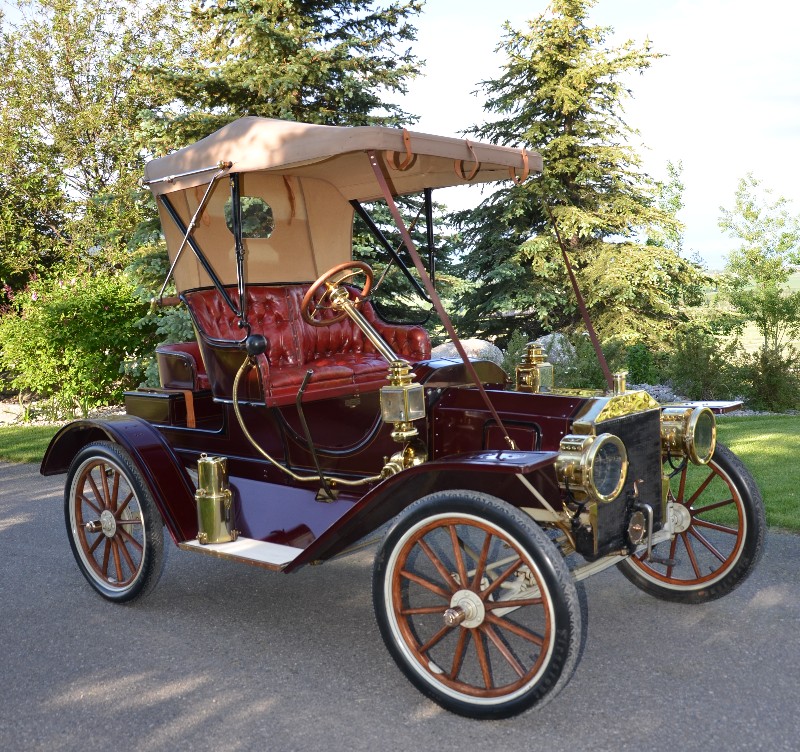 The Model "S" Fenders were unique and sporty, especially in comparison with the other Ford offerings.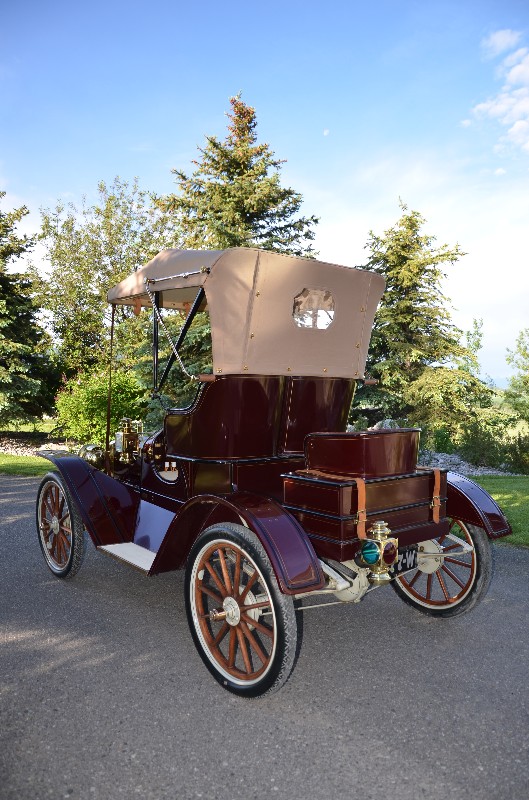 Very pretty!  Note the oil fired tail lamp.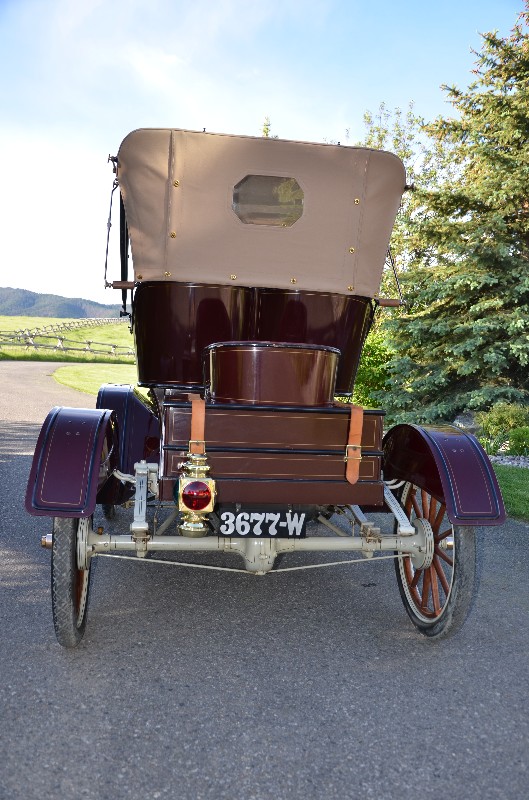 Also note the clean undercarriage!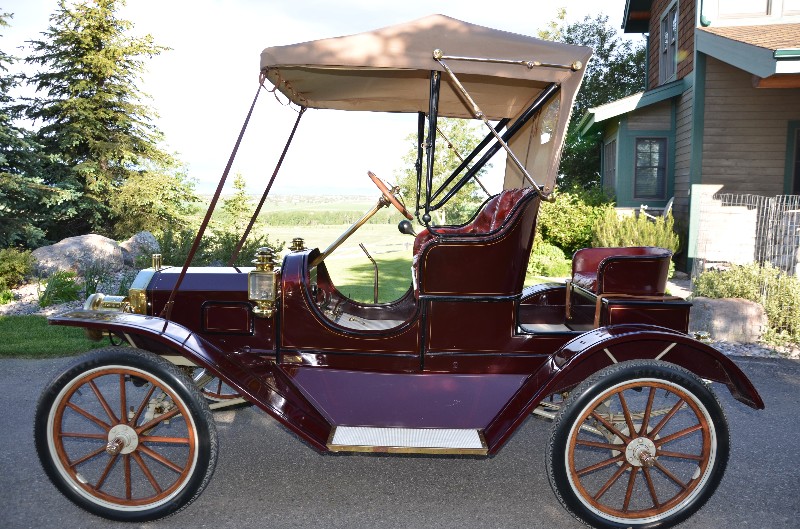 Boy is that car sharp!  It's not a show car, I would say the restoration is older, but it's in excellent condition.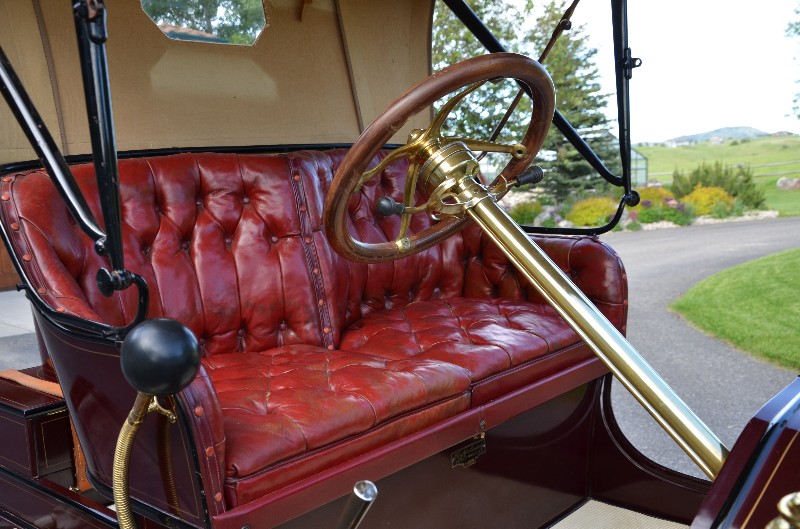 Excellent tufted leather seats, with a bit of patina showing.  Look at that polished brass encased steering column! This car was made before Henry cost-engineered everything to death!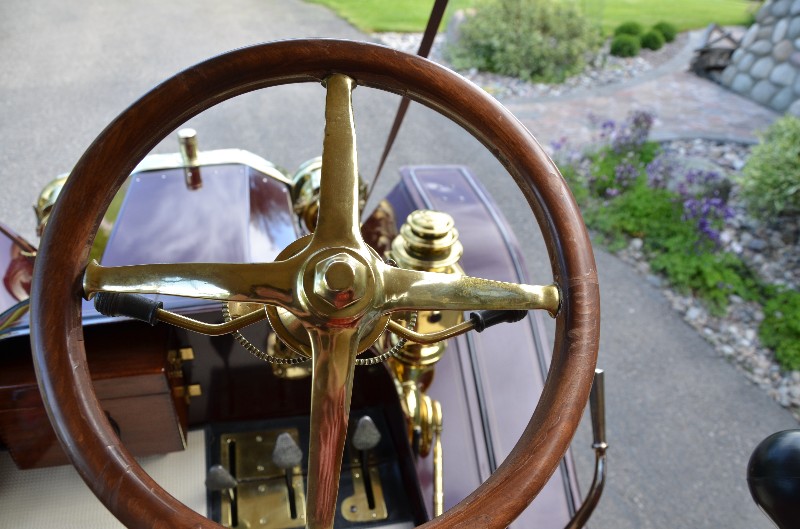 Wow! Polished brass steering wheel spokes, lovely wood steering wheel rim,  and more brass visible here!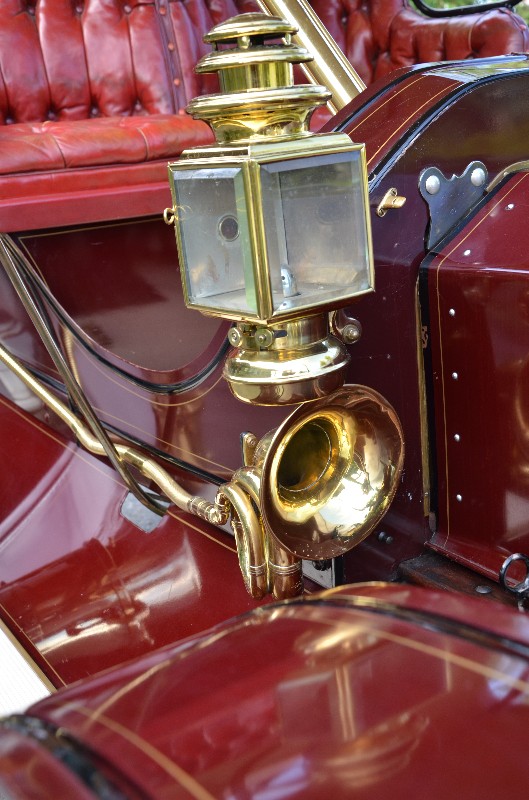 Lovely brass bulb horn and cowl lamp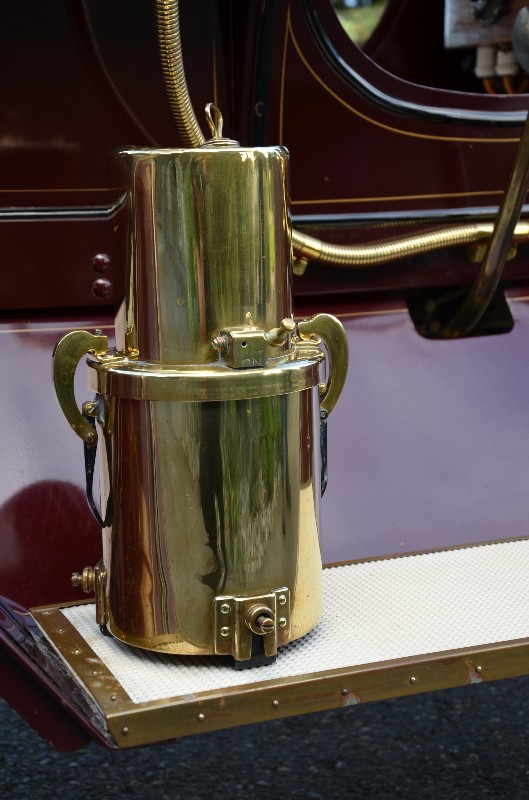 Brass Acetylene generator.  you should note it's not hooked up or operational.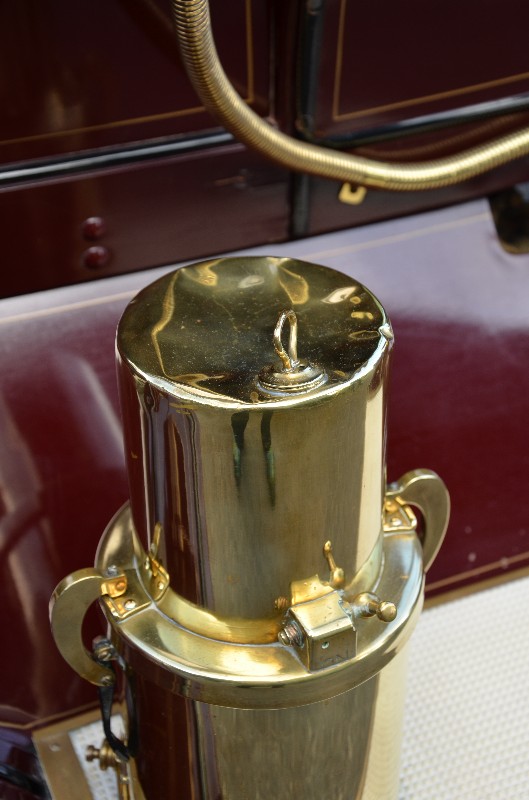 Another view of the acetylene generator,  note a shallow dent in the top.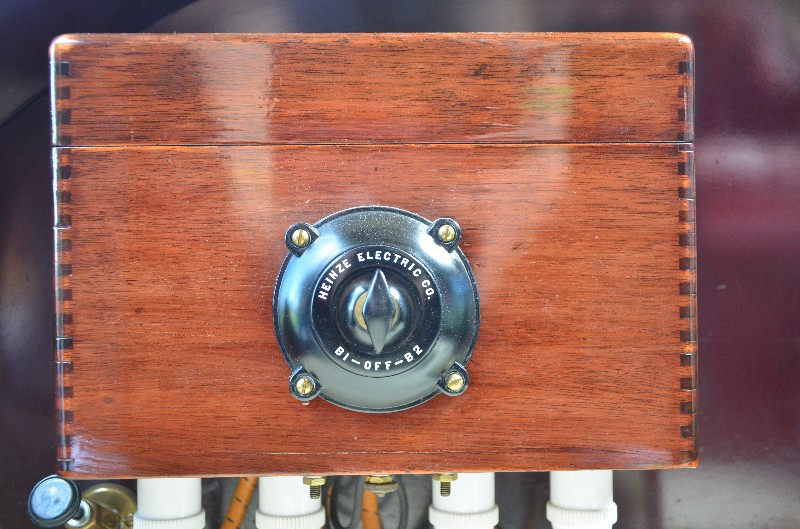 Here's the coil box.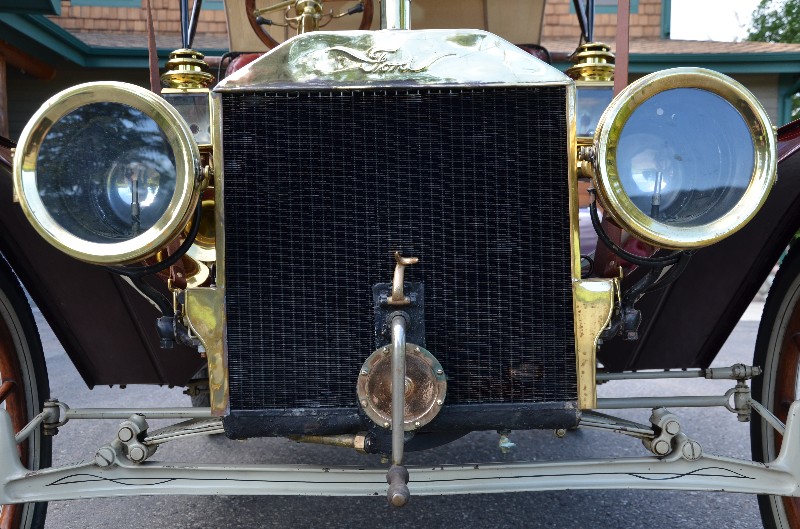 Here's a closer look at the radiator and brass headlamps.  Good condition here, but not show condition.  It doesn't leak, and the car cools properly.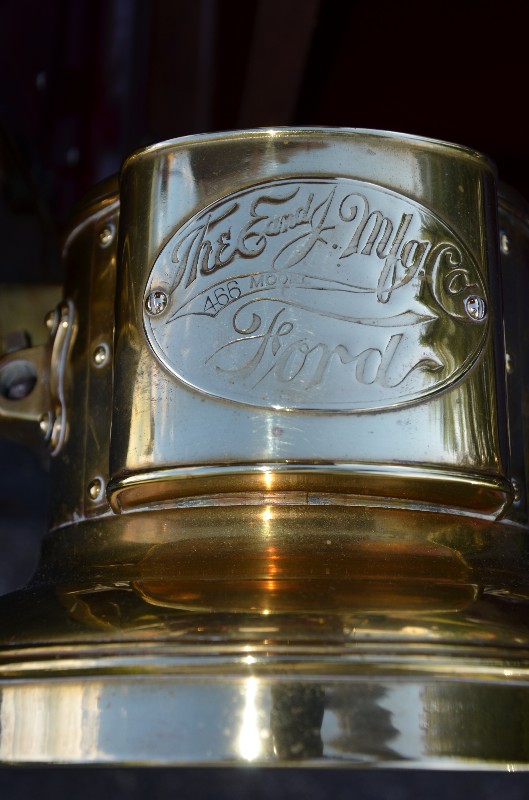 I love the "E&J MFG Co" on the headlamps!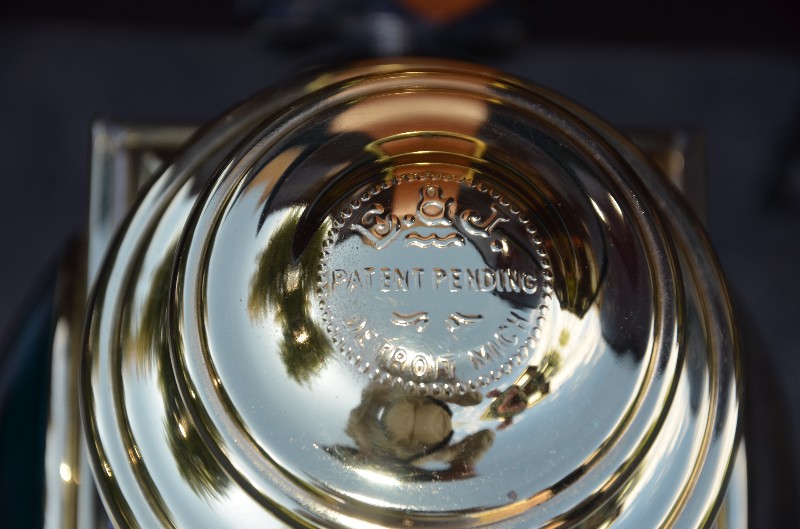 Here's the E&J side marker lamps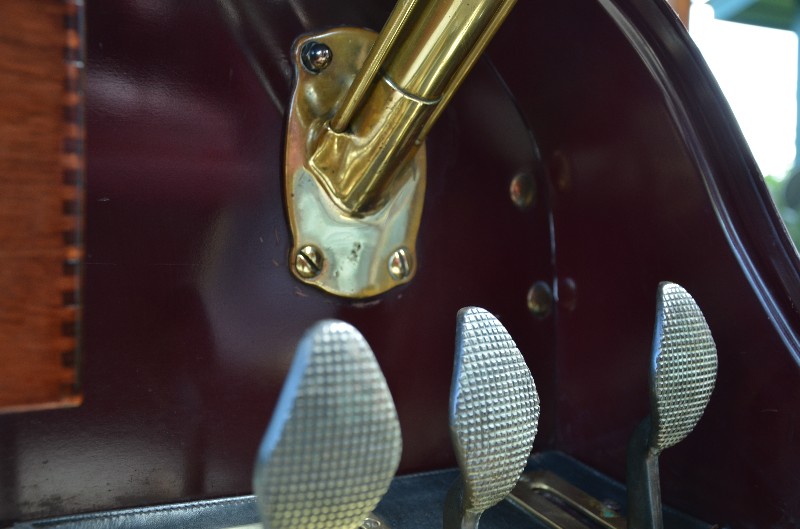 Ford Pedals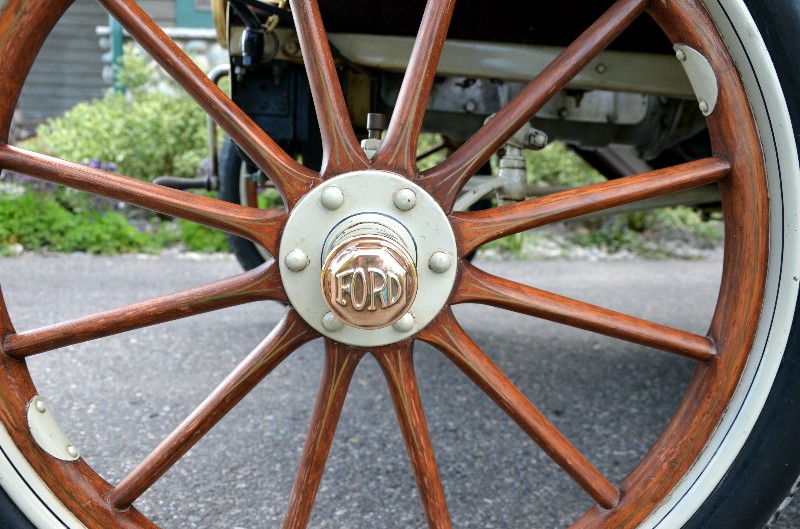 "FORD" Brass Hubcaps.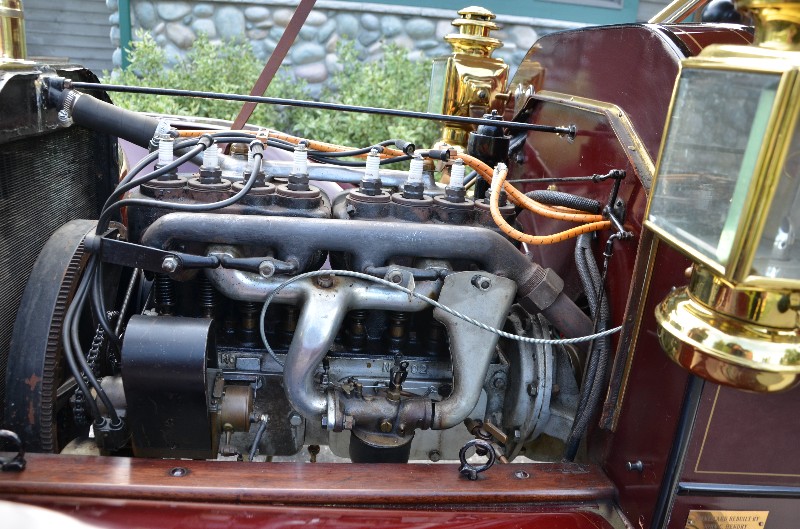 Here's the engine, a 4 cylinder, flathead, dual ignition powerplant with chain driven oiler and forward mounted flyweel / fan combination.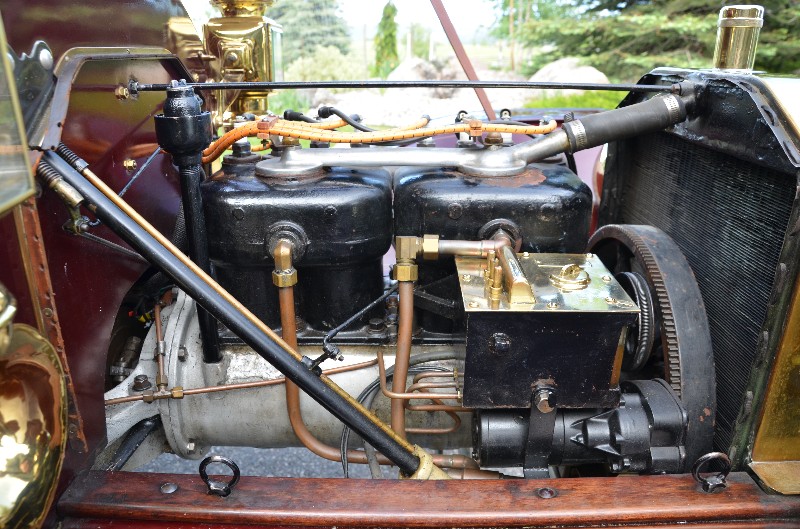 If you look carefully,  you'll see the cleverly mounted electric starter!  Note the ring gear on the flywheel, also.  There is a battery hidden underneath the rear seat to energize the starter!  Yes, it's not original, but it beats the heck out of breaking your arm or your thumb while cranking, as many of the original owners did!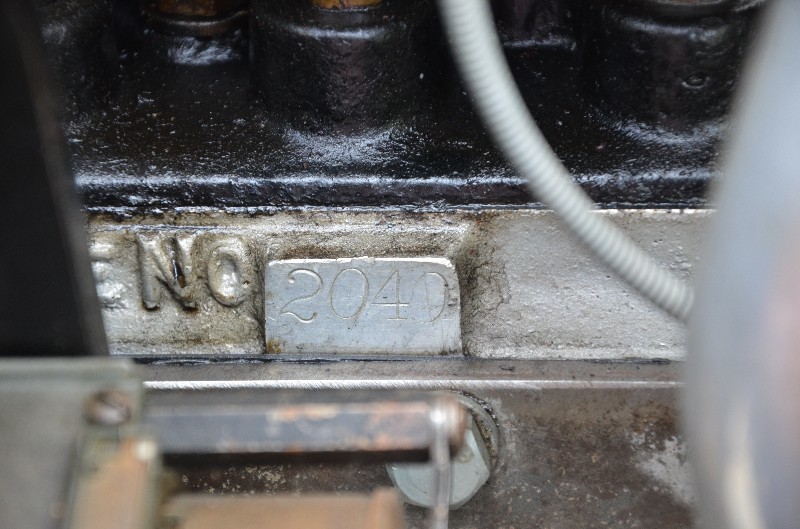 Here's the engine number, 2040
Nicely done undercarriage.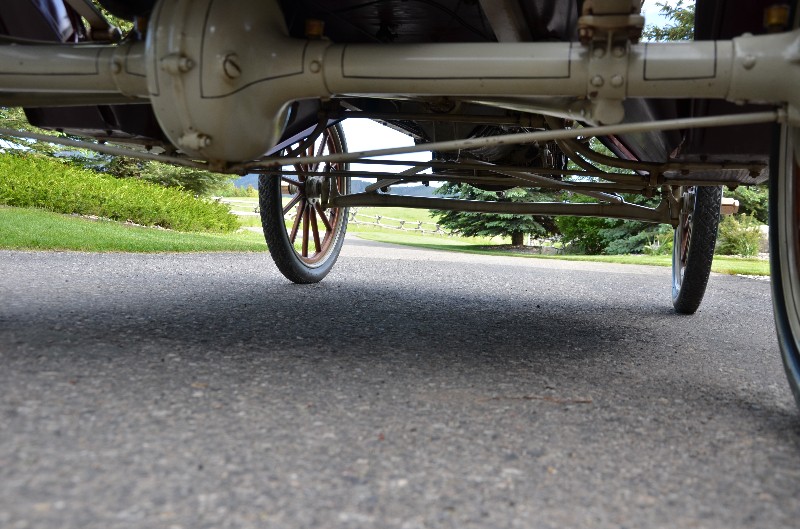 Nice!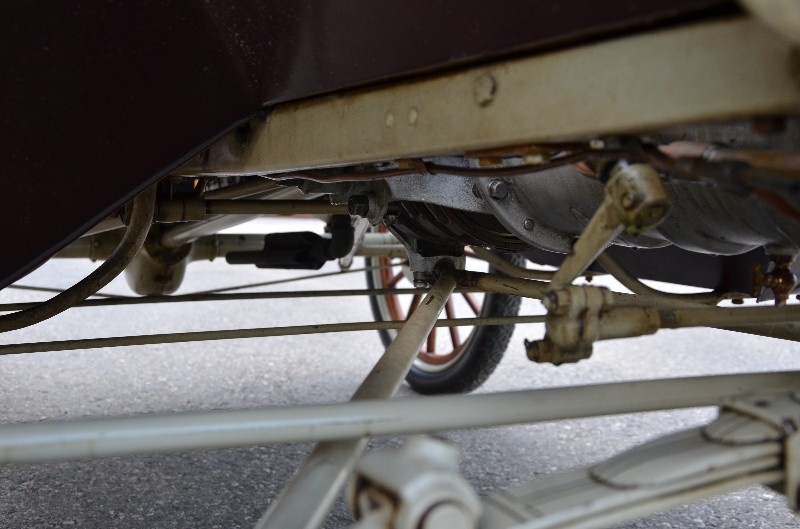 View from the right front fenderwell looking back.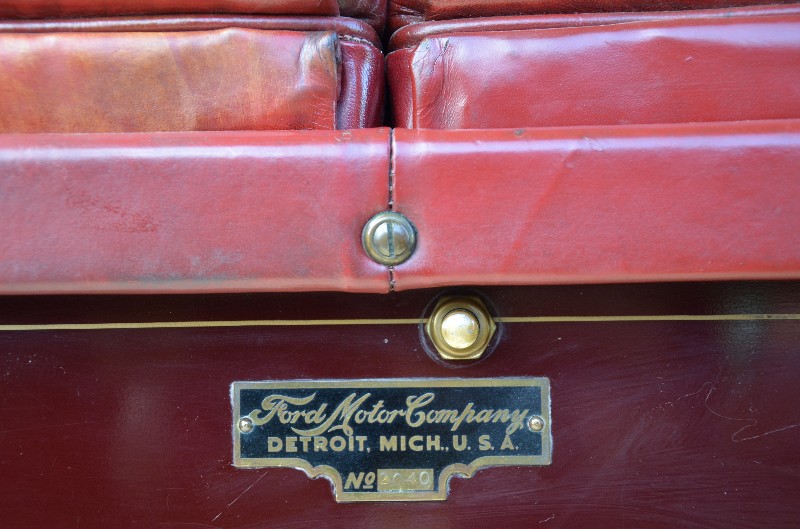 Body plate # 2040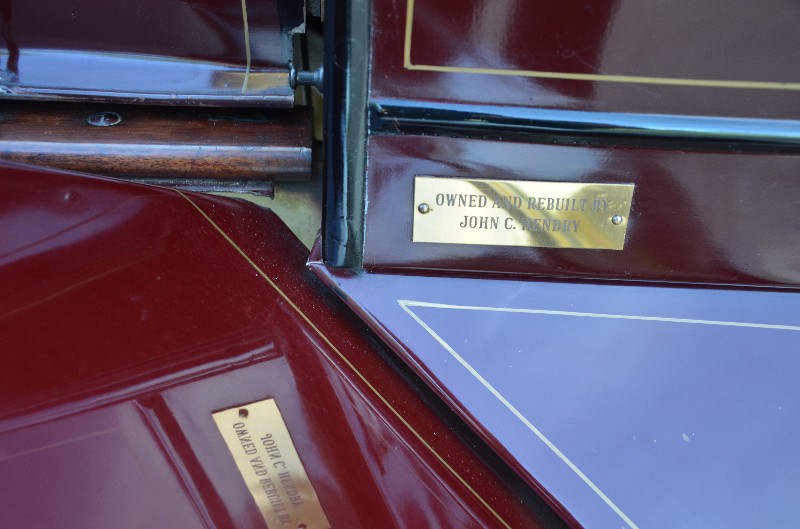 One of the former owners, John C. Hendry put his plaque on the car!  We think He restored the car in the 1970's.  By 1995, it was owned by Herbert Lederer, then Patrick O'Hearn, then Mark Plante of Florida. in 2006, it made it's way through a couple of dealers and then to it's current owner, who has done a really nice job of taking care of it.
Not visible in this photo is a crack in the sheetmetal, about 2 inches long.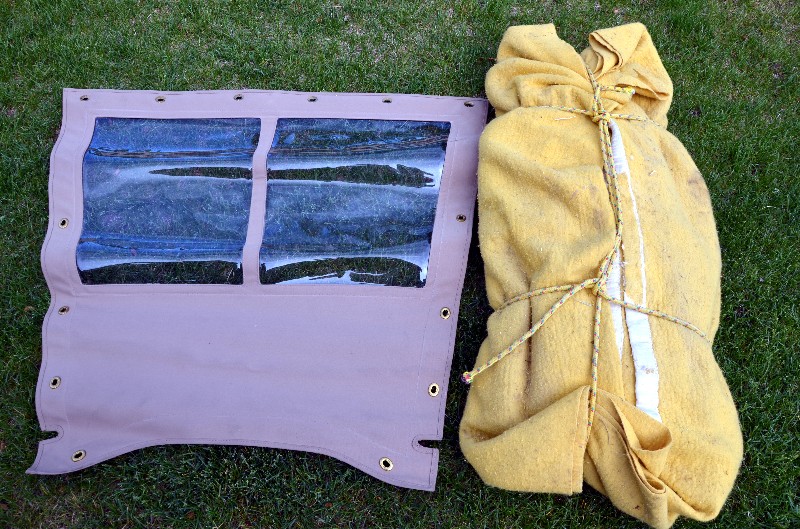 Full set of sidecurtains and an isinglass (Plastic ) windshield are included!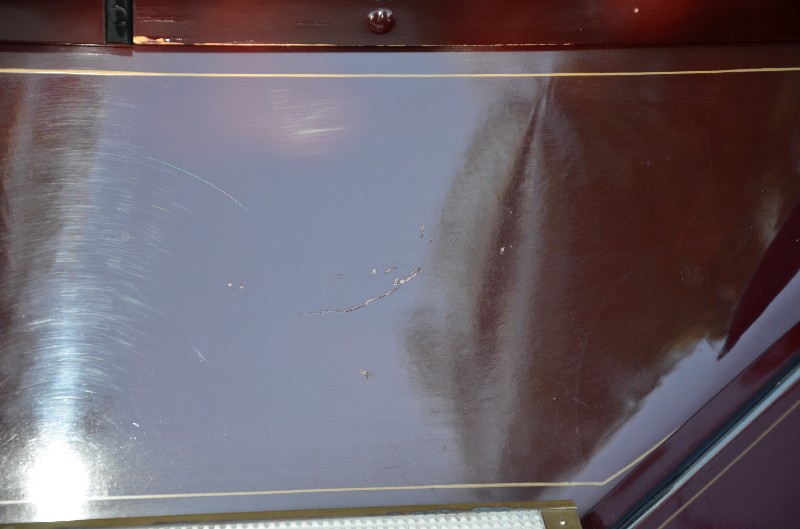 The paint is very nice, but it's older, and shows some age, such as this chip.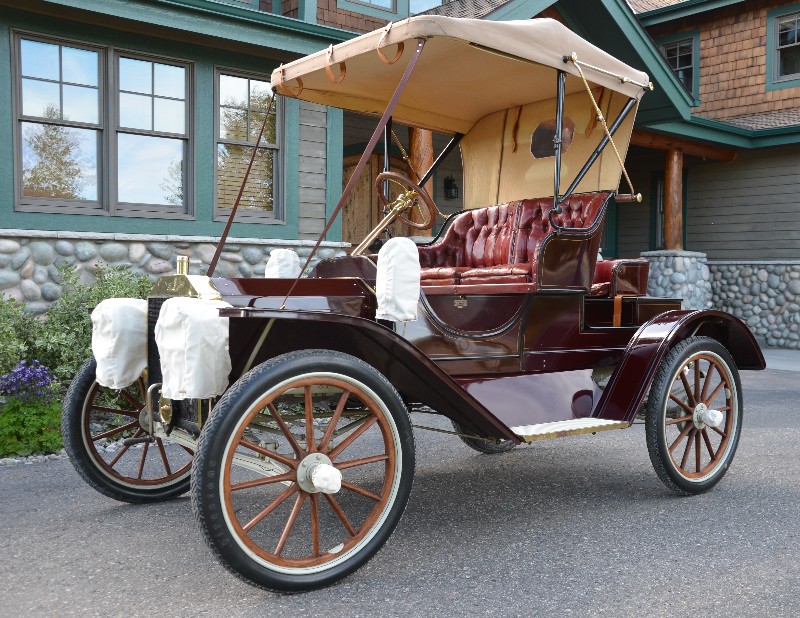 Also included are these cute brass protectors made of cloth.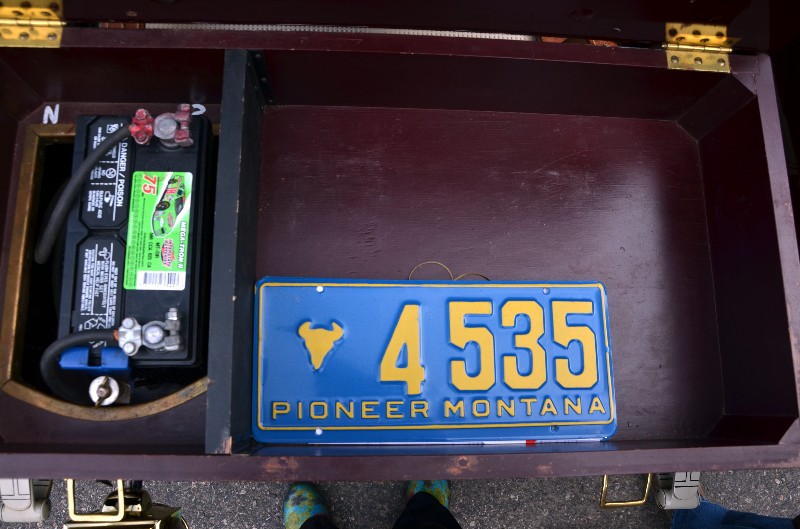 Here's the hidden battery, and the License plate.  This car has a clean Montana title, and it is titled as a 1907.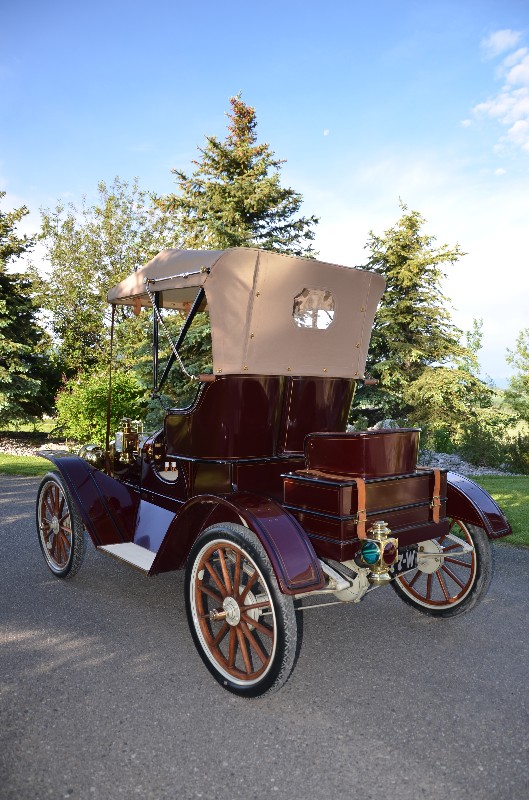 Don't let it get away from you!
.