Here is the Beautiful  1939 Packard V-12  Roadster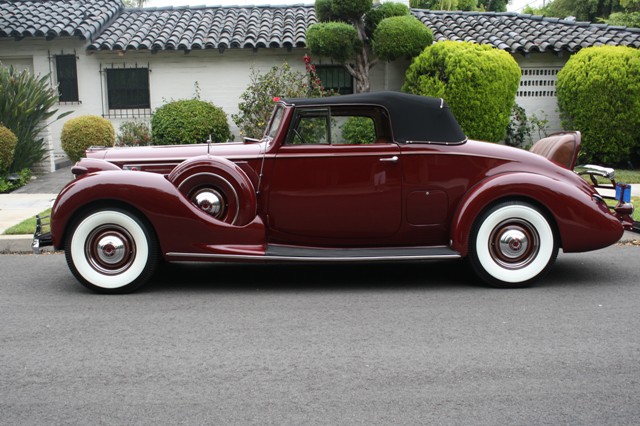 There is nothing like a Packard Twelve – the 473 Cubic inch engine is a marvel of smoothness and quietness, the factory power assisted brakes stop the car surely, the factory power assisted clutch operates easily, and the independent front suspension is sure and safe. Of course, the brakes are hydraulic.  '39 was the first year for the column shifter on the V-12 Packard.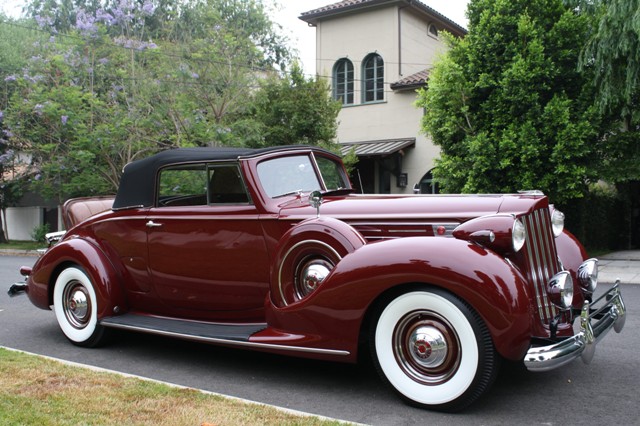 The Roadster body style is quite desirable – seating for 2, with the rumbleseat carrying an additional 2 people!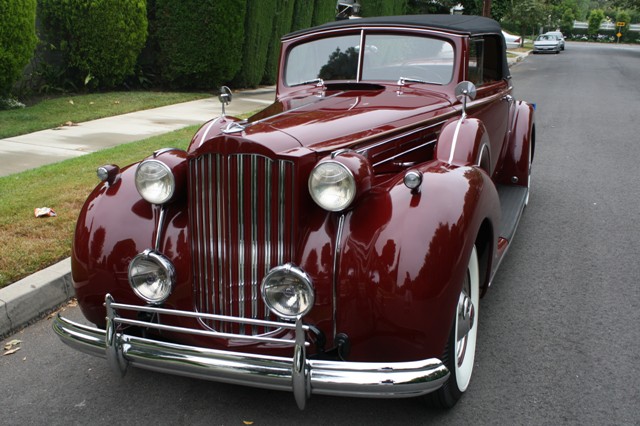 Note the Senior Trippe driving lights, the bumper guards, and carefully integrated turn signals.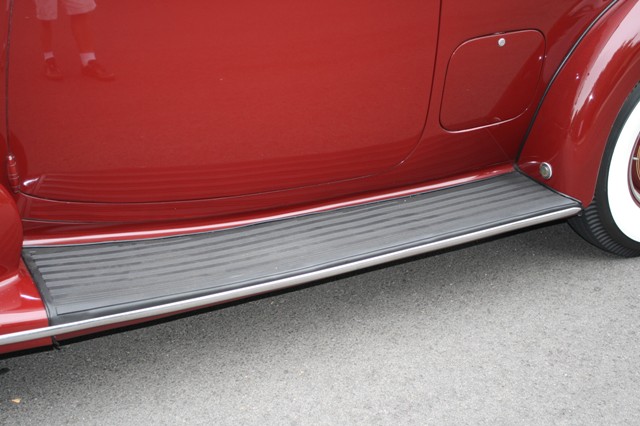 Excellent running board rubber, and look how nicely the doors fit.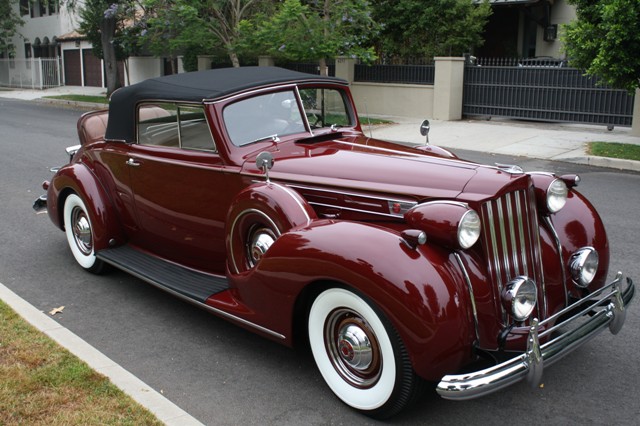 Another view of a handsome car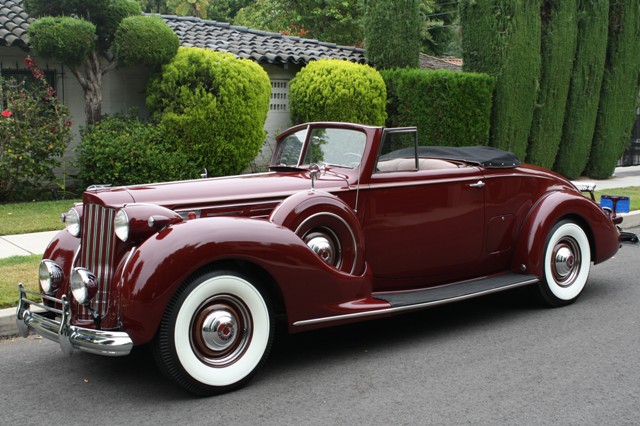 Here it is with the top down, and the top boot installed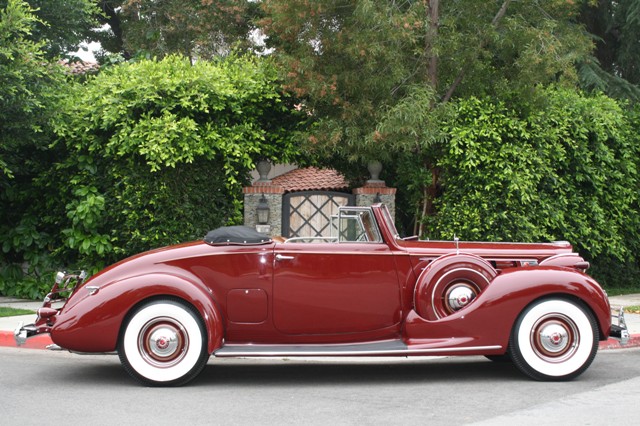 Every styling element works perfectly in profile.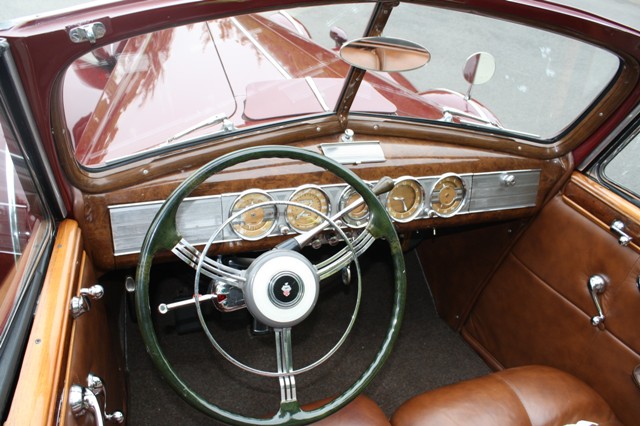 Beautiful driving compartment, with luscious woodgraining, beautiful instruments, and the correct for '39 deluxe steering wheel.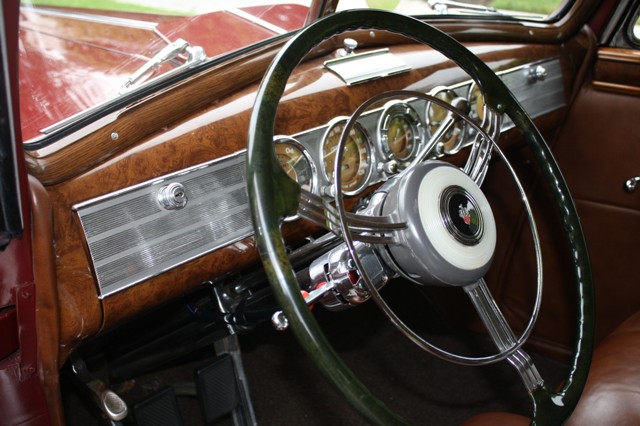 A closer view of the beautiful steering wheel and dashboard. Also note the nicely installed turn signal switch – OK per CCCA judging rules.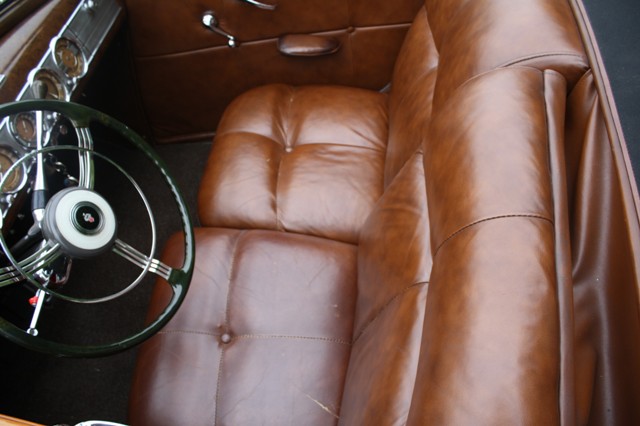 The leather is very nice, with just a bit of age showing on the lower driver's cushion.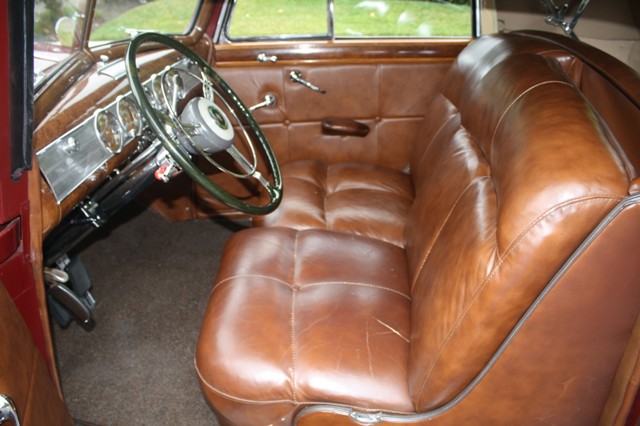 Here's another view of the sumptuous interior.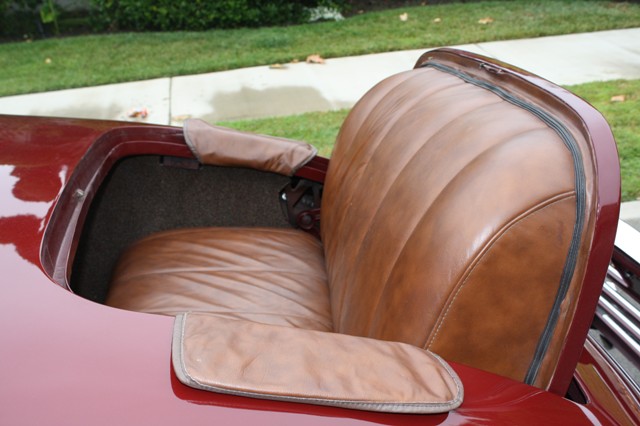 Slightly less luxurious than the front but much more sporty and fun is the rumble seat, correctly done with leather, correct weighted armrests, and wool carpeting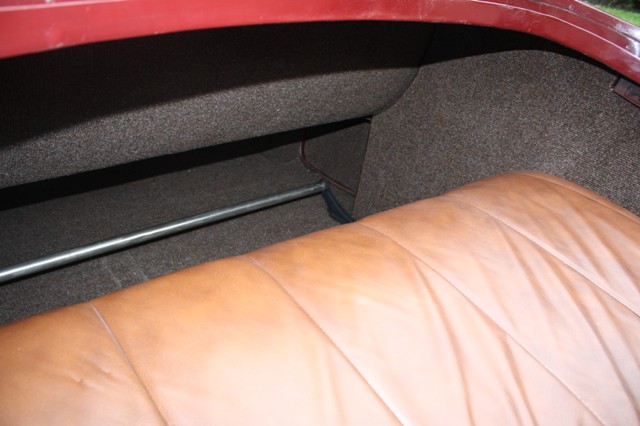 Note the footrest.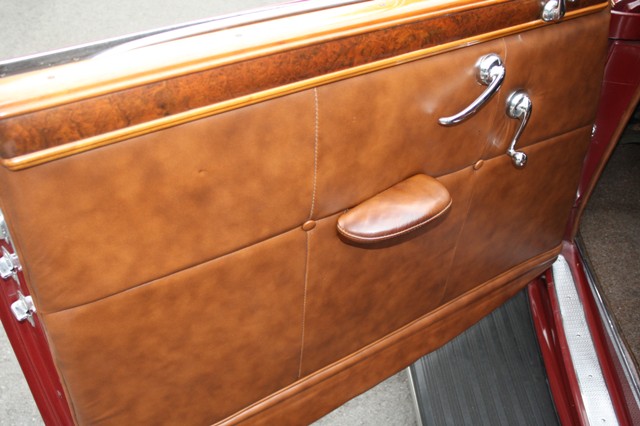 Excellent doorpanels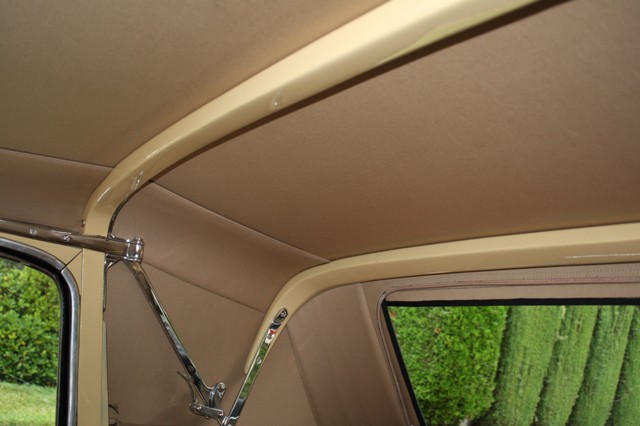 Excellent top bows and inner top.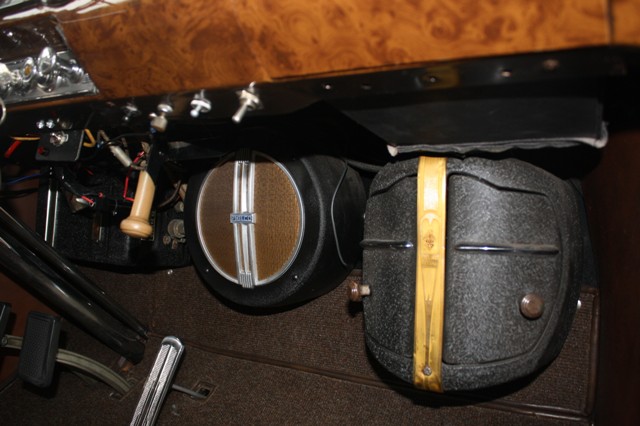 Radio and Heater.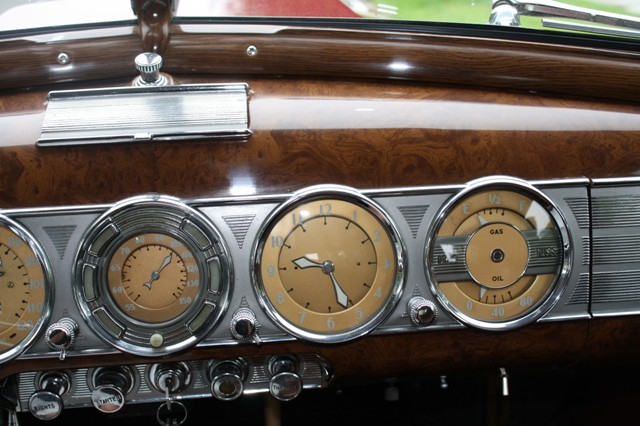 Another view of the beautiful dash and gauges. Everything you see here works properly except the radio, which doesn't make any noise.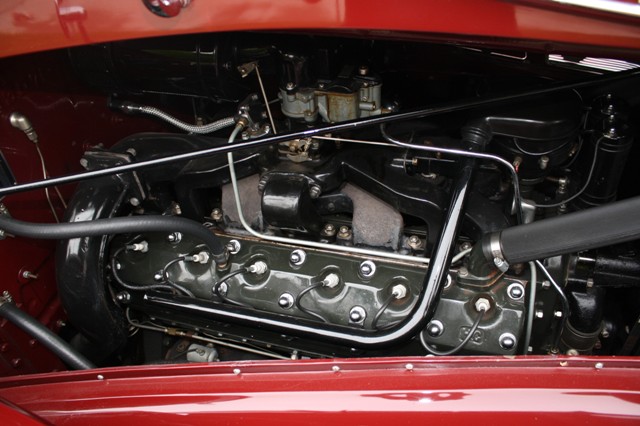 473 Cubic inches of V-12 power – if you want to draw a crowd at a car show, just open the hood, fire it up, and enjoy listening to the people marvel at it. "It's so quiet!"  "Is it even running?"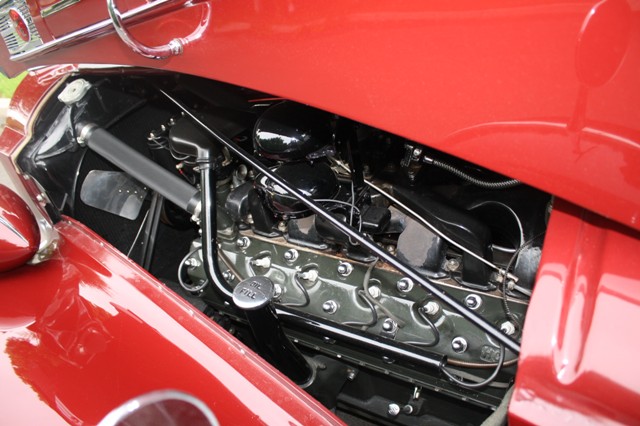 Here's the driver's side. Note the correct V-12 distributor cap cover and coils.  The engine is very clean, but would miss show points on the exhaust manifold porcelain. It's a  beautiful engine, though.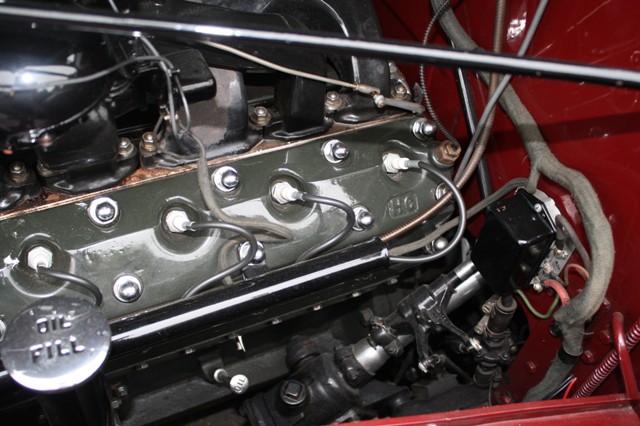 This engine runs beautifully, firing on all twelve cylinders.  It will sit and idle for a very, very long time without even running warm.  Also note here the clean firewall and redone wiring in the correct cloth backing.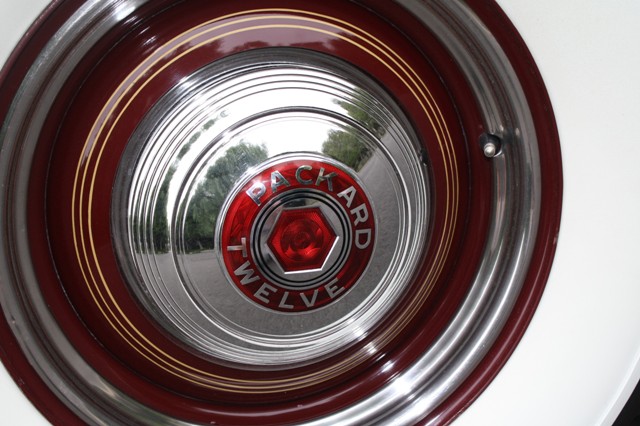 I love the Cloisonne Enamel Emblems on the hubcaps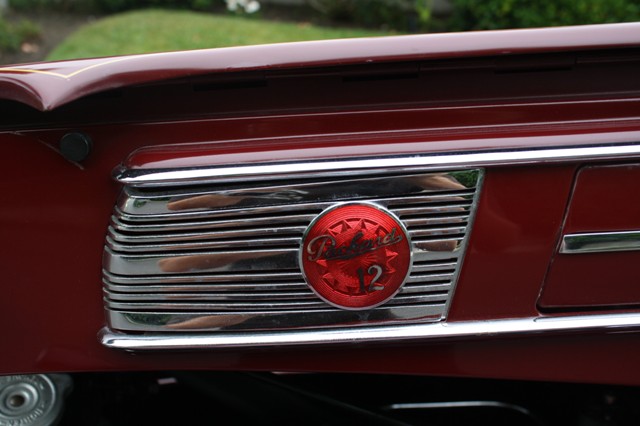 More beautiful Cloisonne enamel, this time on the hood emblem.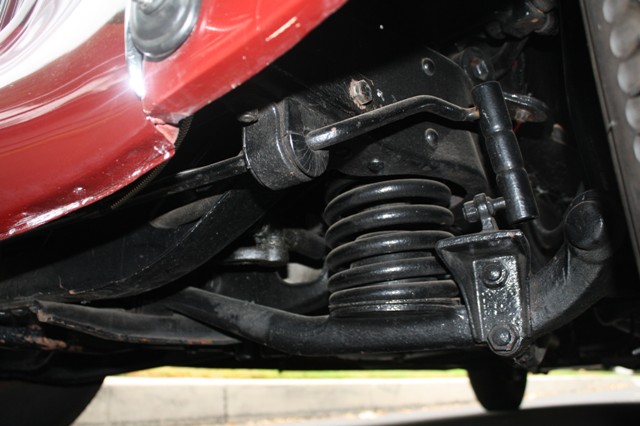 Here is the famous Packard "Safe-T-Flex" independent front suspension. The undercarriage is reasonably clean but not show detailed.