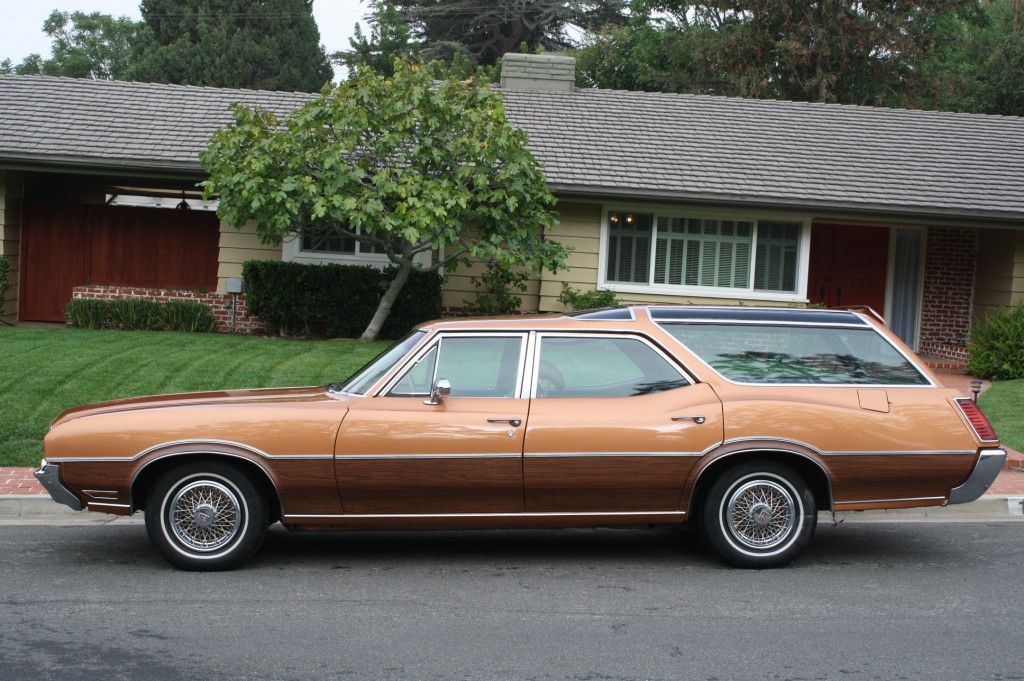 A 1972 Oldsmobile Vista Cruiser Station wagon! The car so emblematic of the 1970′s that one was featured in "That 70′s Show!"  The car in which everyone our age was told by our parents  " Don't make me stop this car!"   Wagons have been very popular lately,  and beautiful ones like this don't come along very often.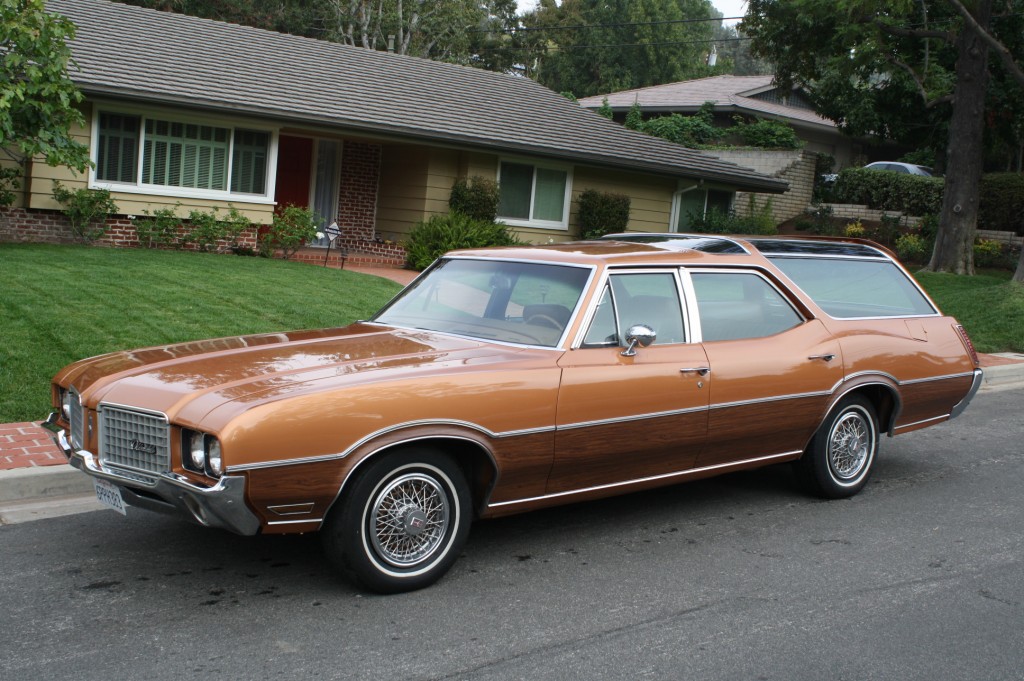 The paint is new and very high quality, done in the original color – the woodgraining is also new, using the proper material.Very fresh and nice!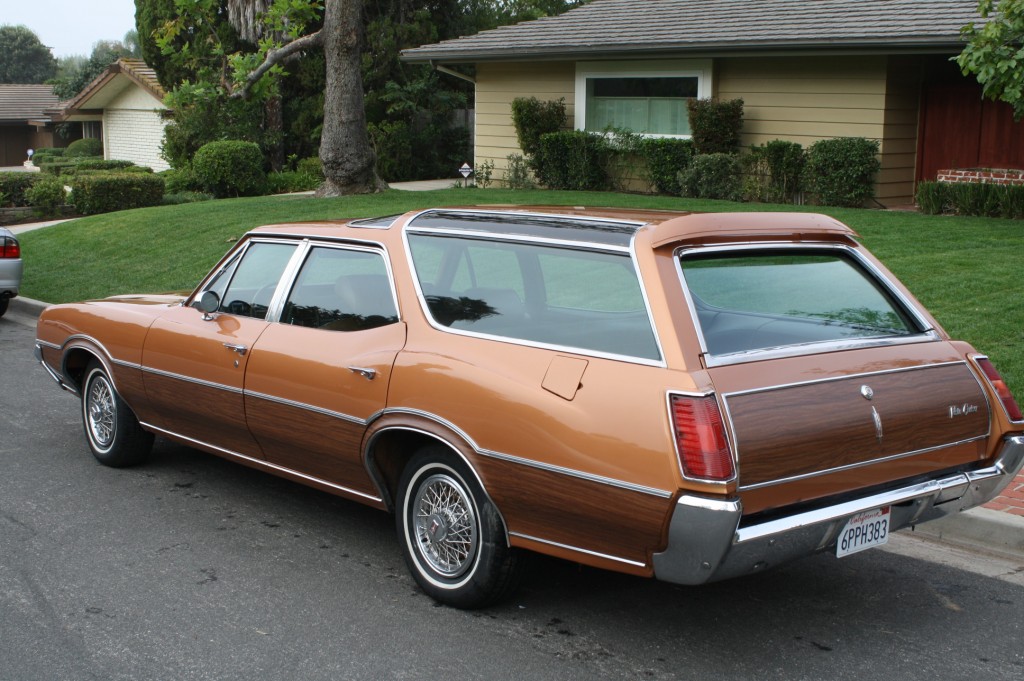 This car is well equipped, with:
Factory A/C – not cold now
350 V-8
Turbo-Hydramatic automatic transmission
Power steering
Power brakes
Power tailgate window
dual-action tailgate
Oldsmobile wire wheel hubcaps, very rare
Factory AM Radio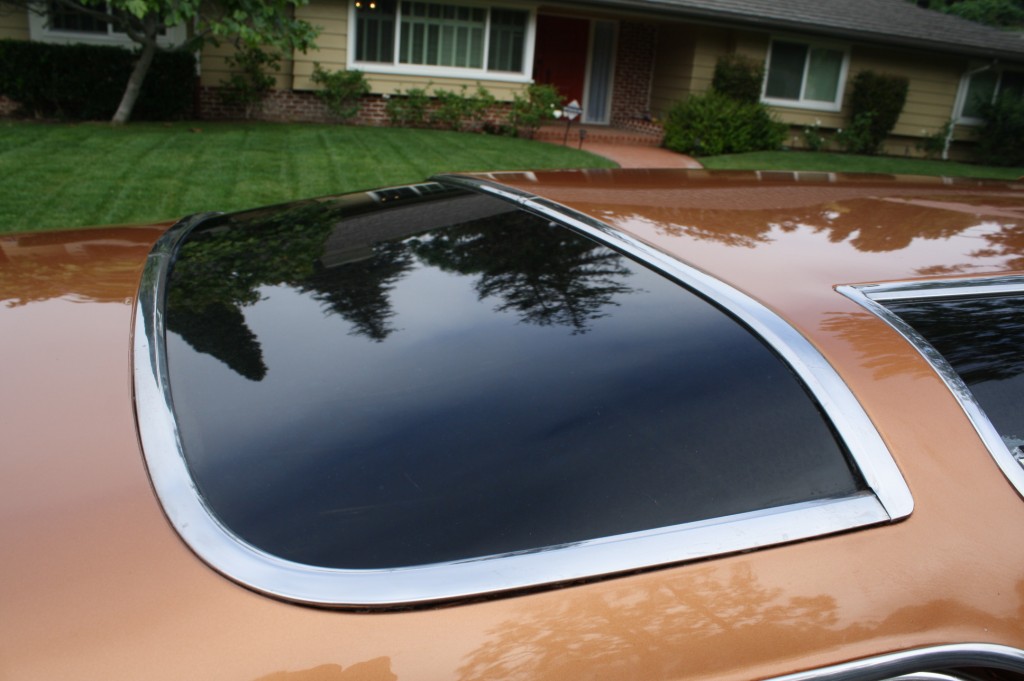 This is the section that everyone worries about on the Vista Cruisers – these upper window channels are very prone to rust.  And this car has NO RUST here!  It's an awesome Calfornia rust free car!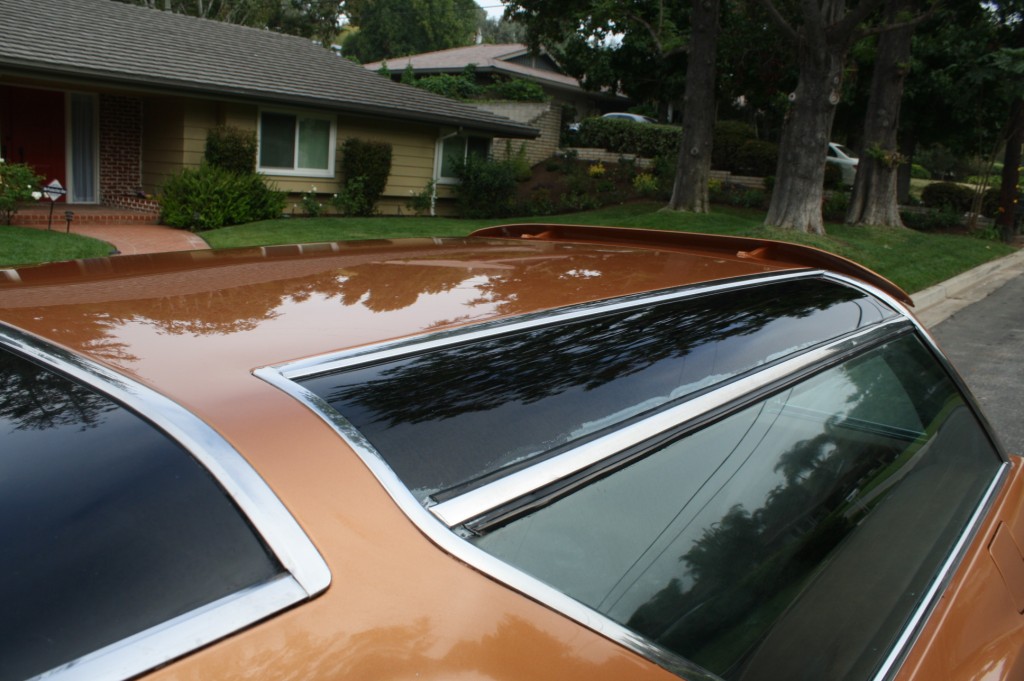 More excellent windows!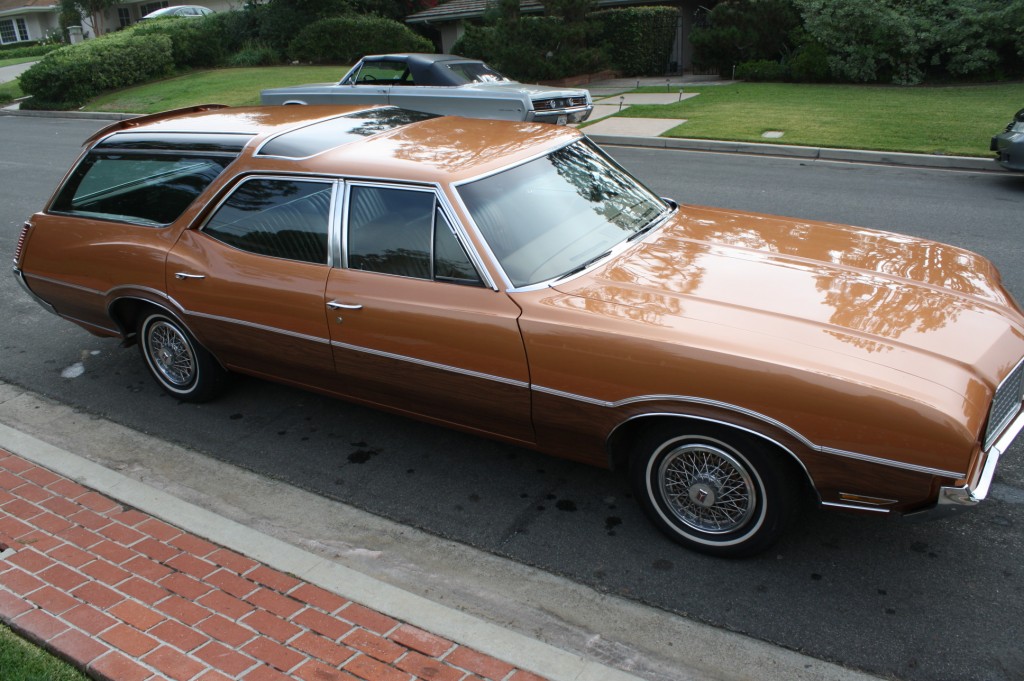 Wow!  I love the color, Saddle Bronze, which by the way is the original factory color. The doorjambs are still in the original paint!  The exterior has been painted to match, with high quality color sanded and buffed, smooth as glass!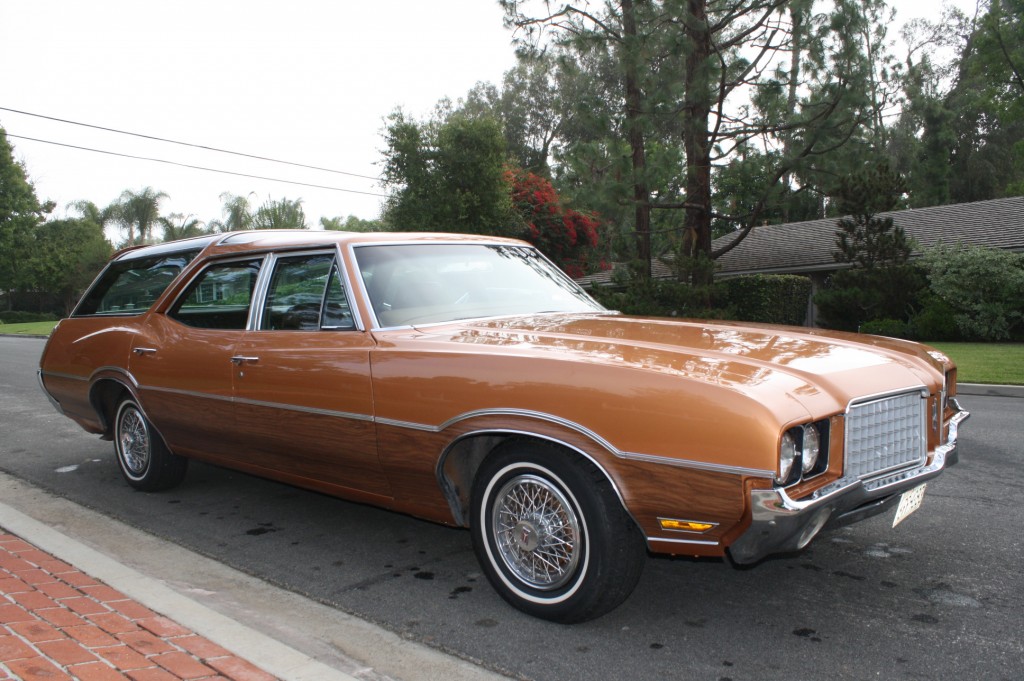 Look at the reflections in that paint – not only is the paint excellent, it shows the straightness of the underlying metal.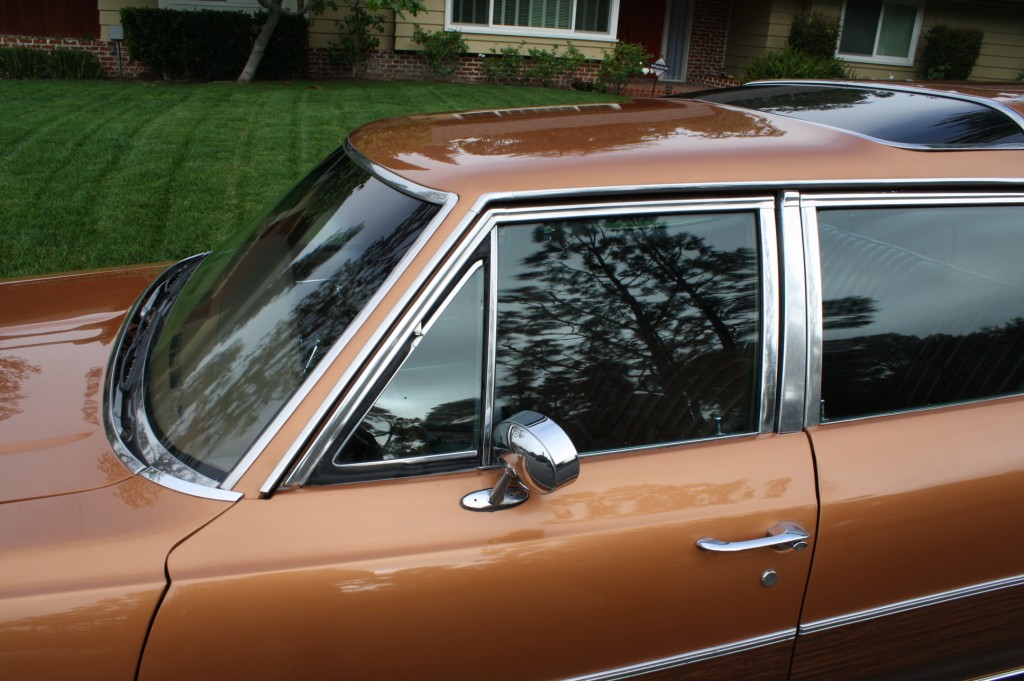 As we approach the driver's door, note the nice remote mirror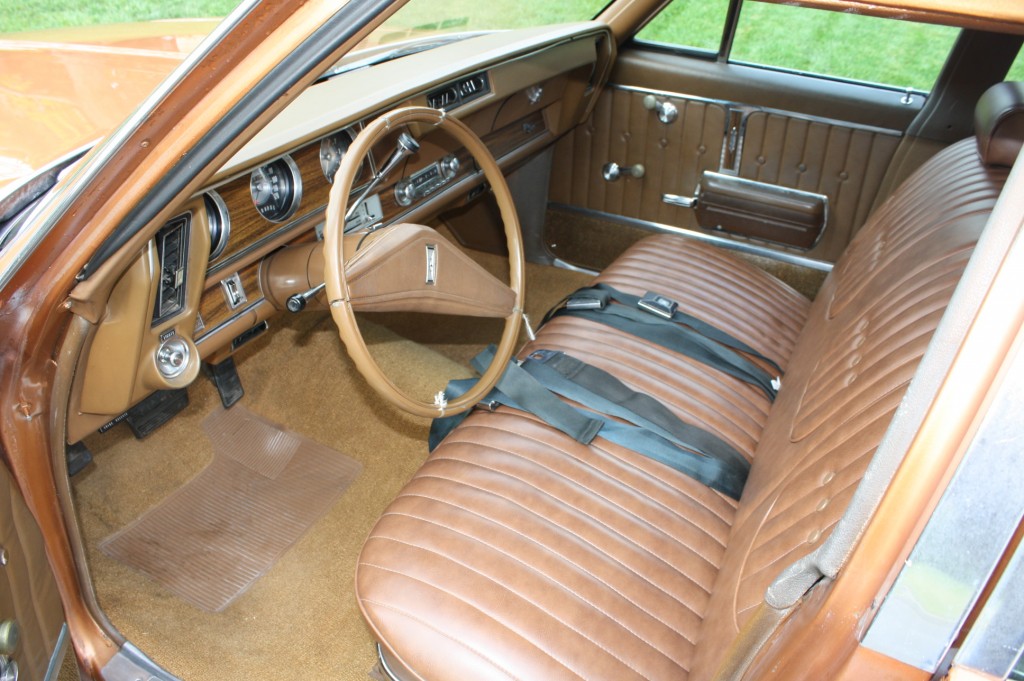 Wow! Awesome!  Correct and original seats and carpeting, and a crack-free dashboard!  The dash wood is still vibrant, and the interior chrome still nice and shiny. You can tell this car has led a good life.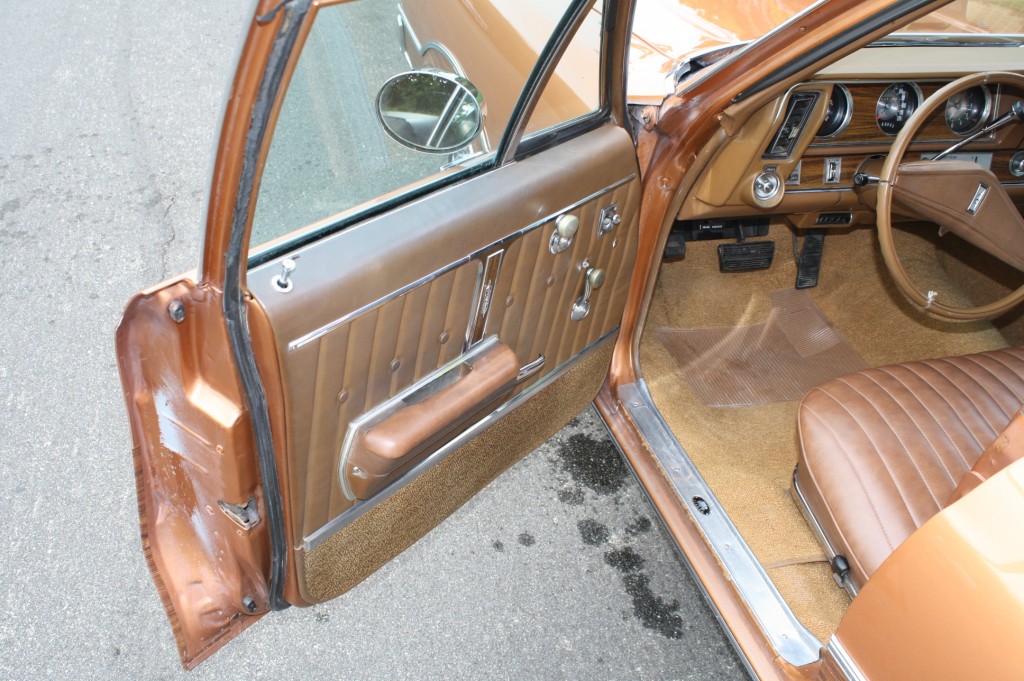 Nice Doorpanels, the original ones!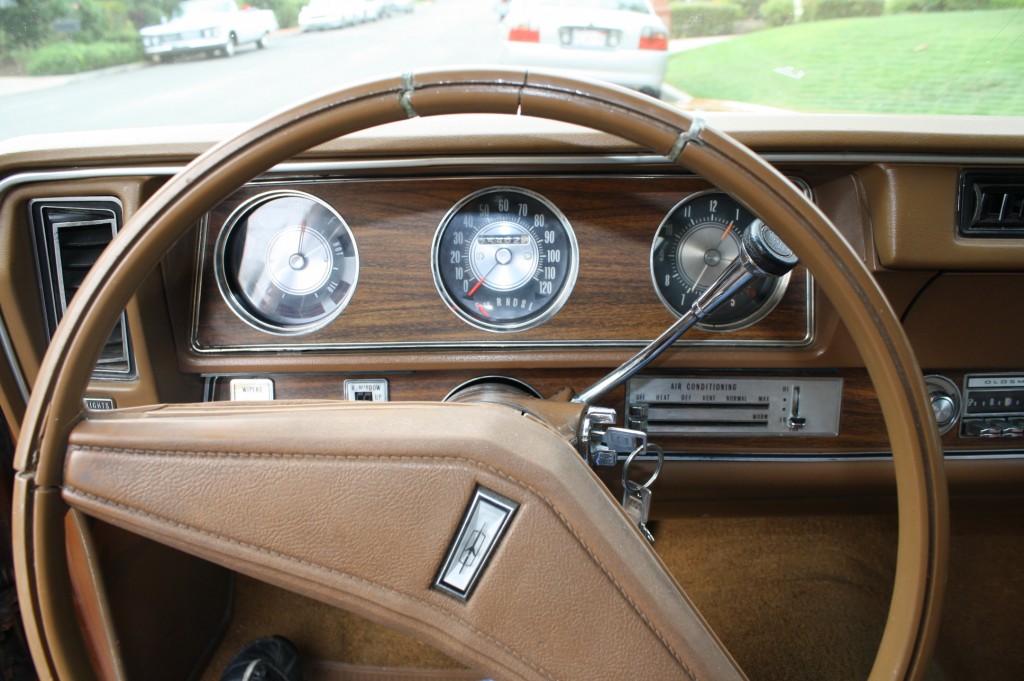 Fantastic dash, with all gauges working!  The steering wheel does have a few cracks, so we will include an Oldsmobile Sport Steering Wheel, shown below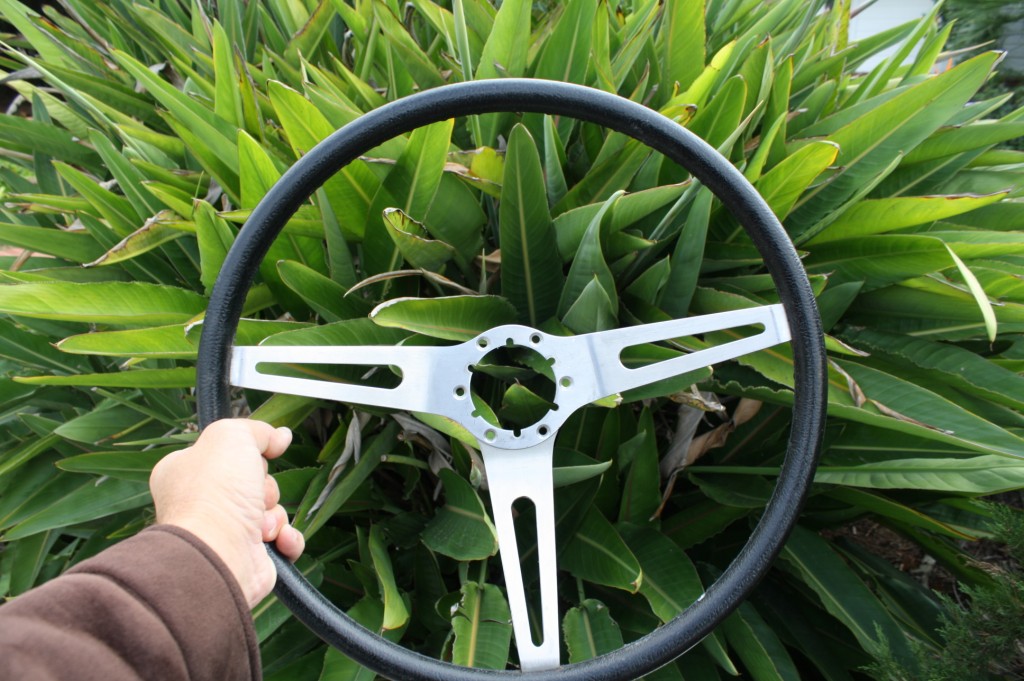 Oldsmobile Sport Steering Wheel, included with this car.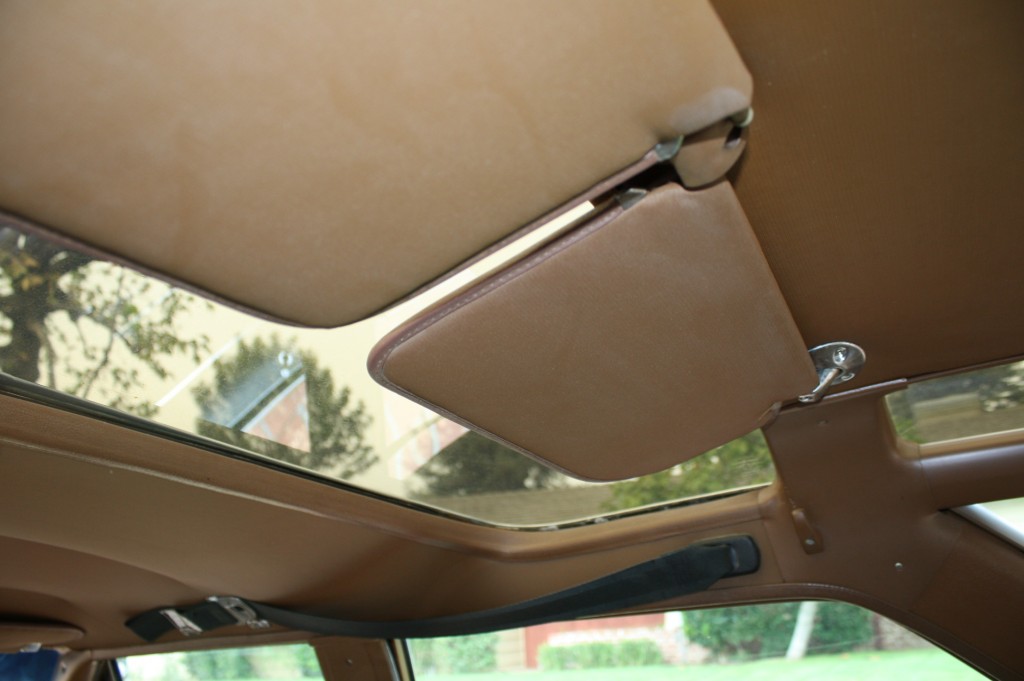 Here's a great photo of the Vista-Cruiser sun-visors in operation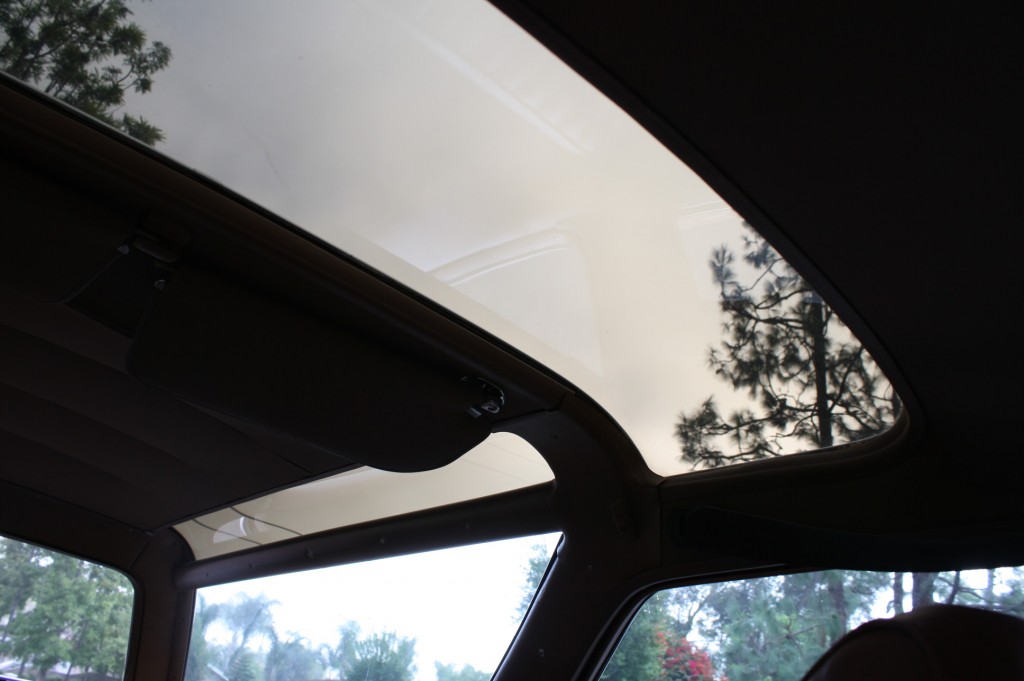 And here it is, unobstructed, so the big interstate views of sky, cliffs and trees can be taken in by the whole family!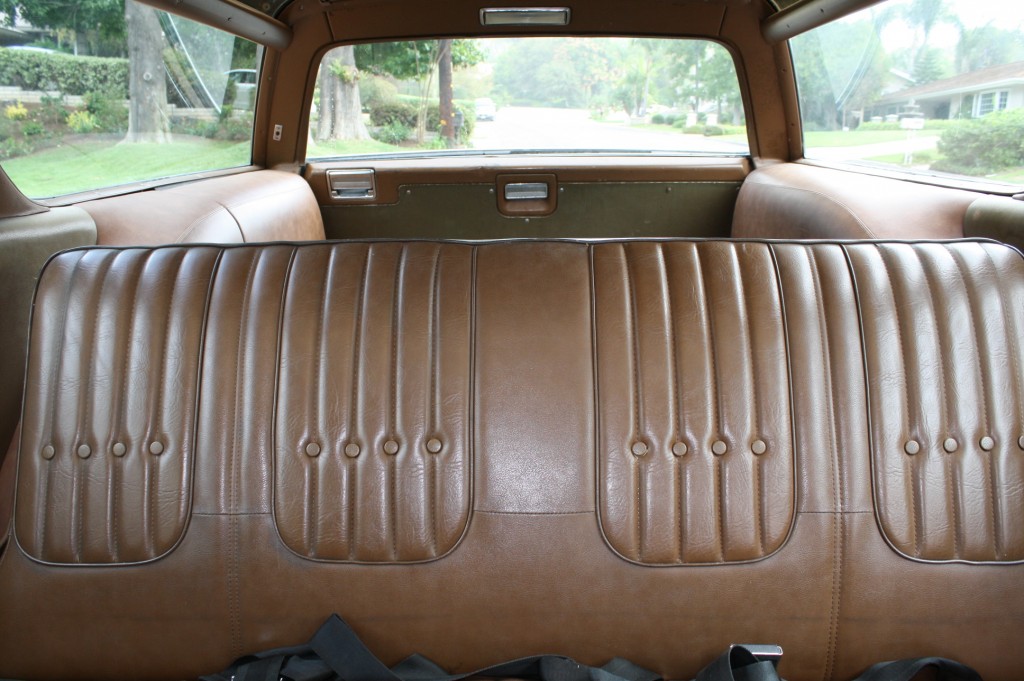 And here is that original back seat, in excellent shape!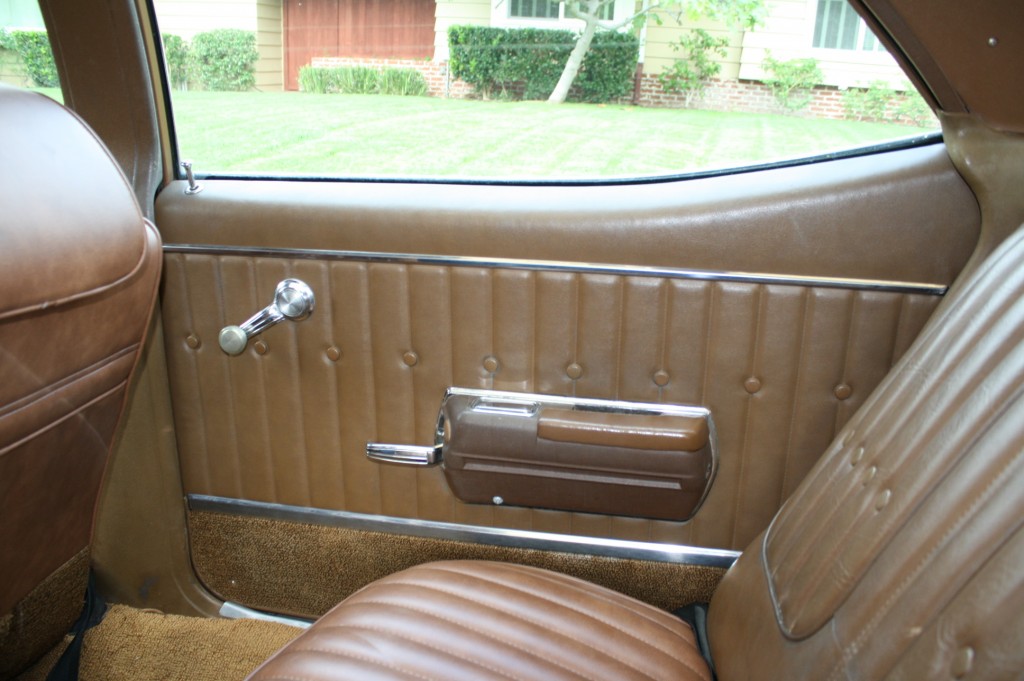 This is just a nice car!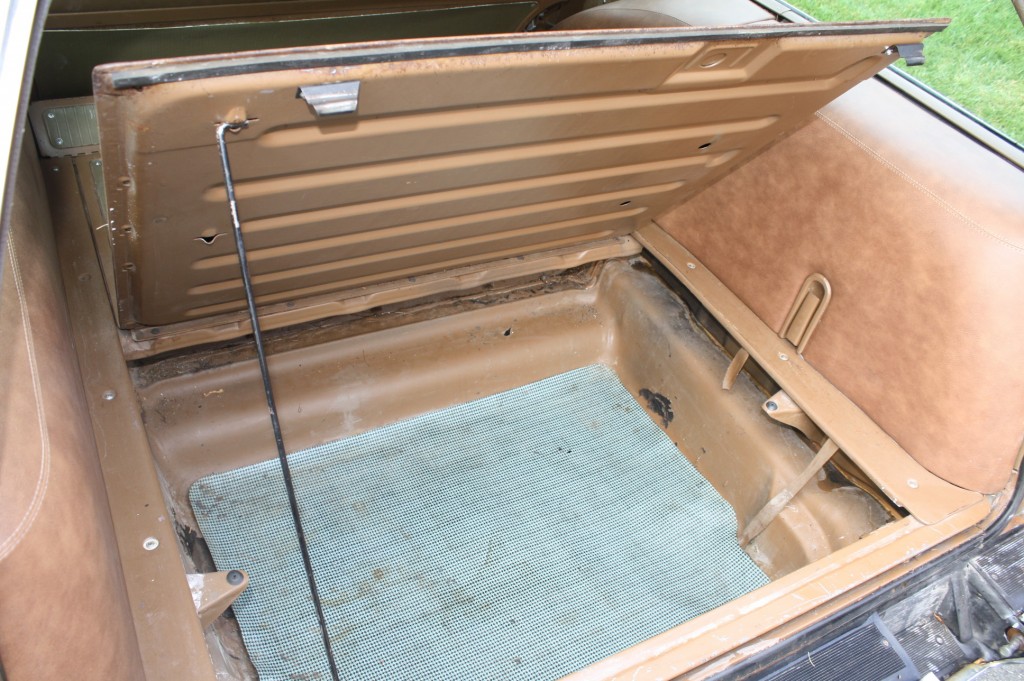 Nice shape down here, too – that's the original trunk mat.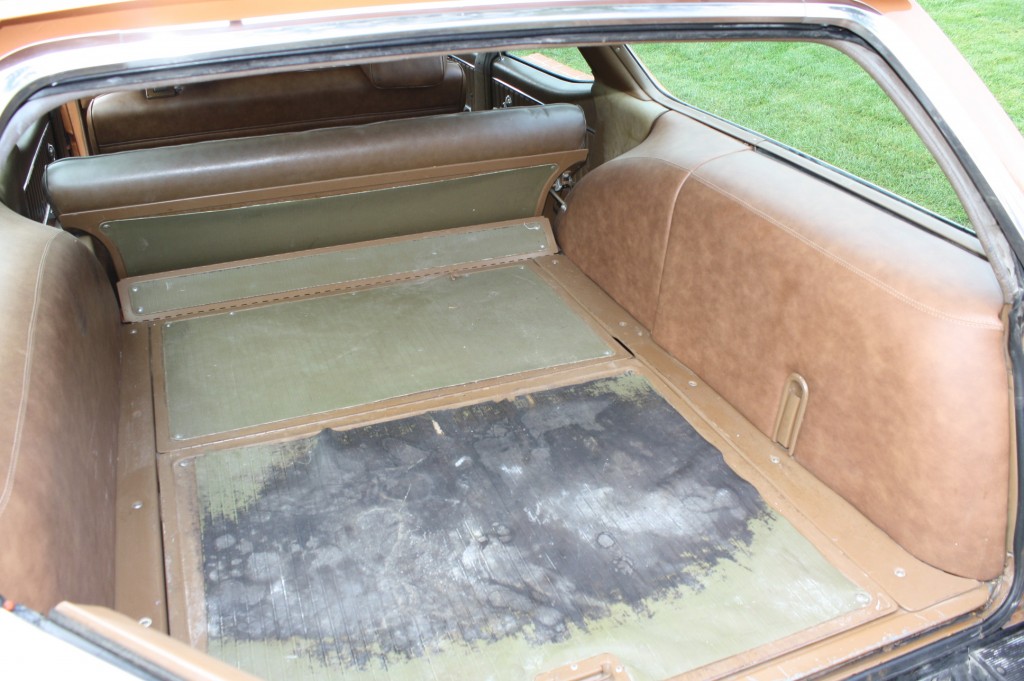 These are the original rubberized mats, showing just a bit of use. You could certainly spray 'em to make the color even again, or just leave it alone, as a tribute to the utility and handiness of this Vista Cruiser!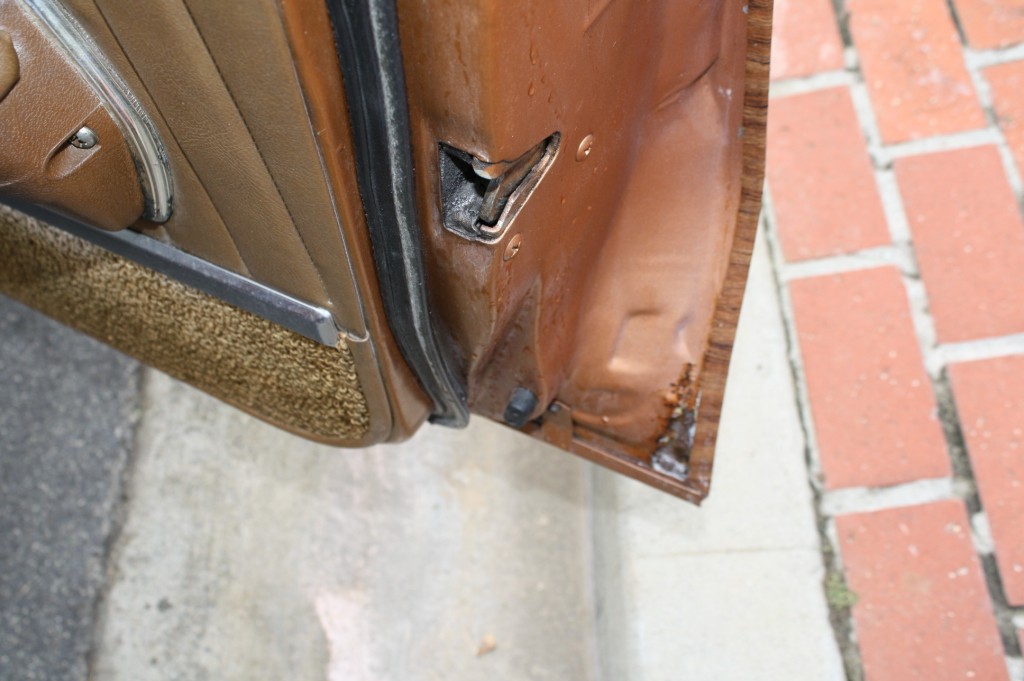 I looked this car over really, really close for rust, and this little teeny spot on the inner right door was all I could find!  It's a known weak point on GM A-body cars, and, that's just the way it goes!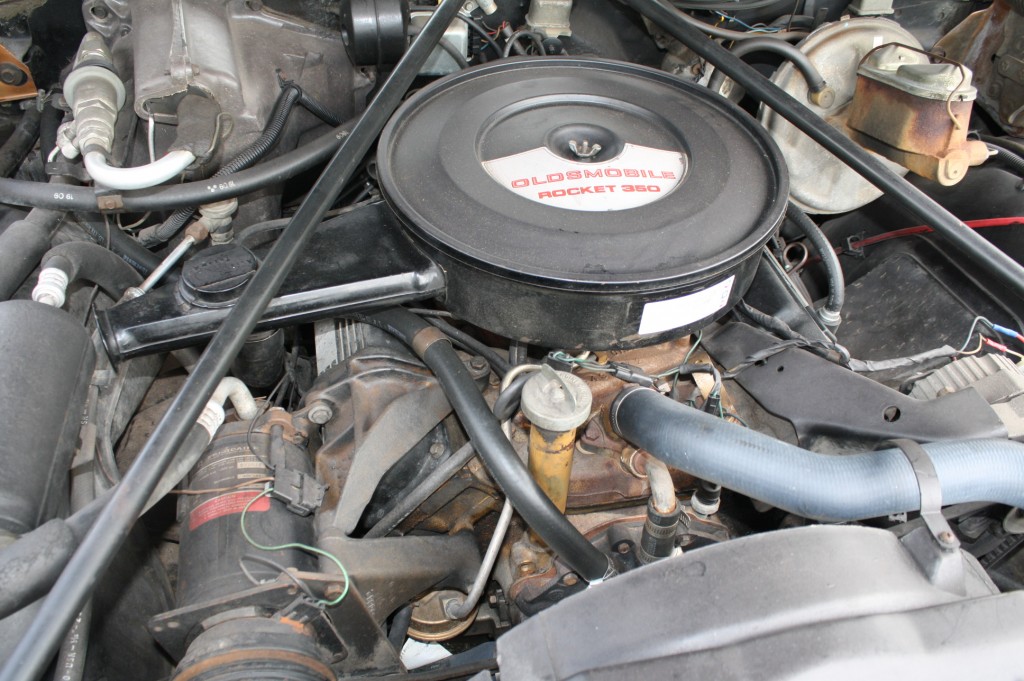 And here we see the Oldsmobile Rocket 350 V-8 Engine!  It really runs great,  I enjoyed my drive in this car very much.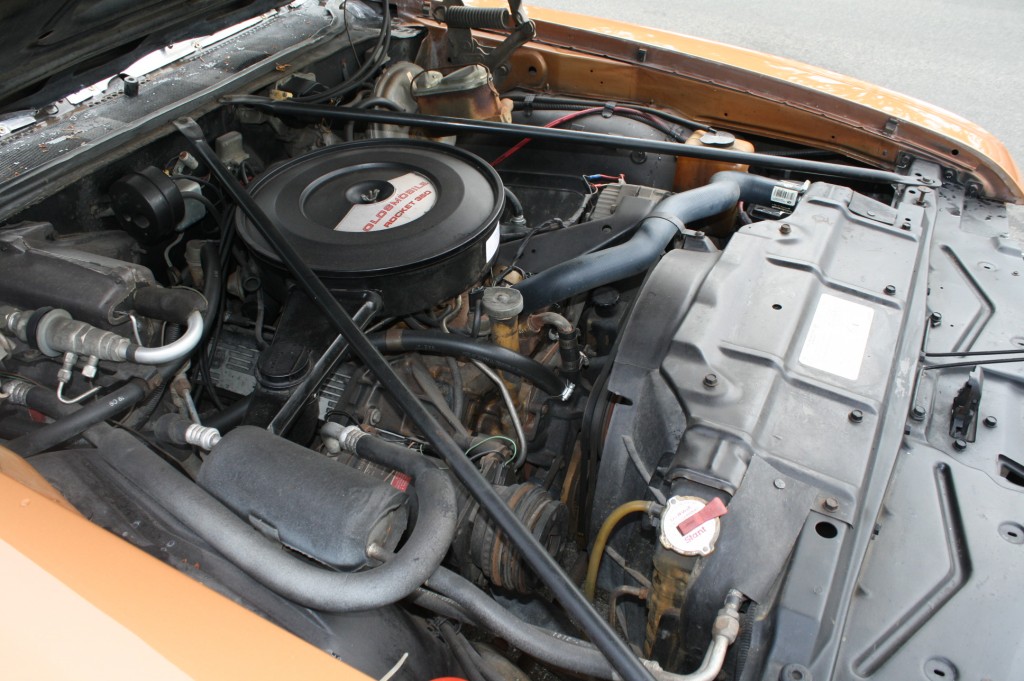 They packed a lot of equipment under this hood!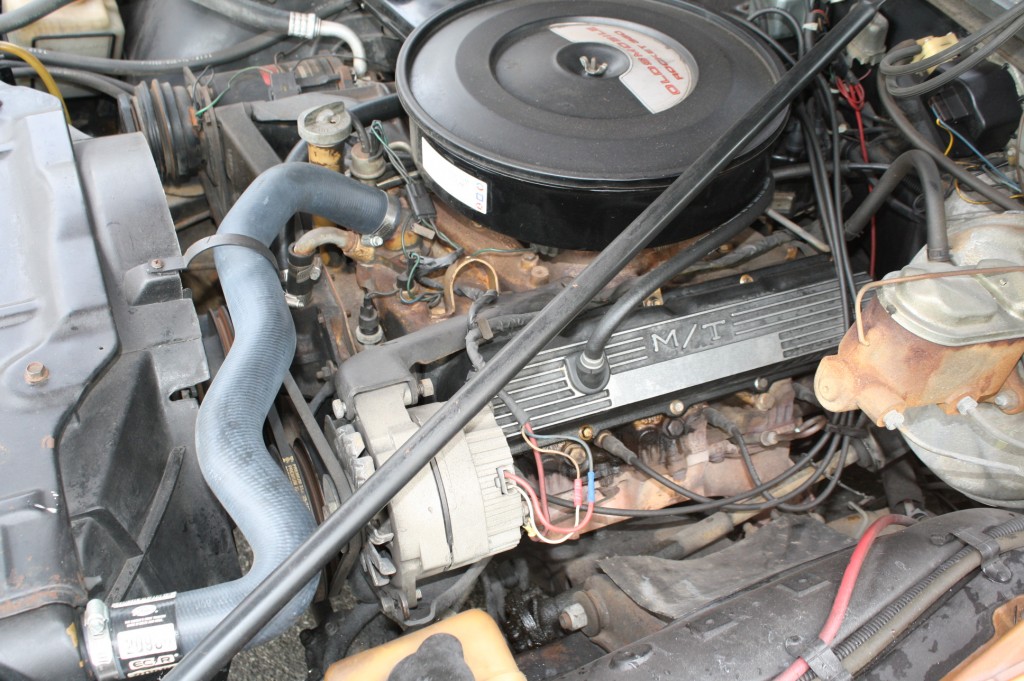 Note the Mickey Thompson Valvecovers, a great 70′s period item!
Here's the tailgate in swing-out mode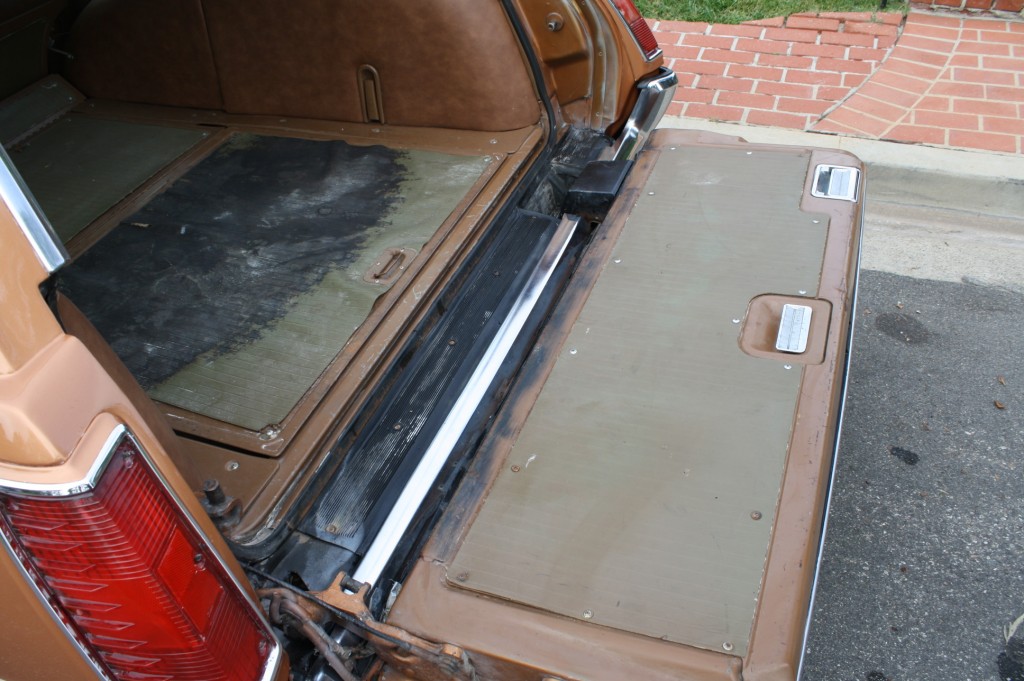 And here it is in fold down mode, for all those trips to Ole's, or Builder's emporium, or Ace Hardware, or any of those other non-Home Depot places that existed back then!