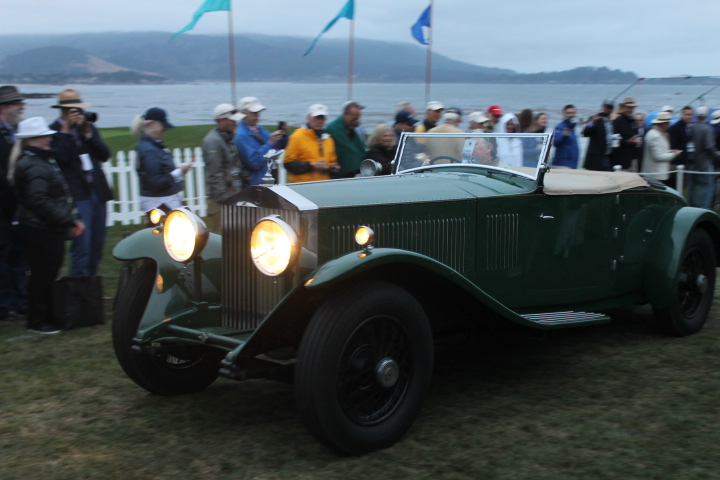 .
Here we are at the Pebble Beach concours d'Elegance – and why do we go there?  Because they have some of the most spectacular collector cars in the world  gathered in one place!  For one day, the entire history of the motorcar from the earliest beginnings to the 1970's is on display.  Cars are driven, transported, shipped, and flown here from all over the world to compete and win, and in the process make for the greatest concours in the world.  Every year, I am astonished by the interesting cars on the field, as well as the variety and high quality. What other show could put on the most comprehensive display of Isotta Fraschini ever?  I've been every year since 1986, missing only a single year.  In 1986, Rick Cole had just started his auction at the Doubletree in Monterey, and there were about 20 spectators who woke up early for the Pre-dawn patrol on concours morning!  Now there are 6 Auction companies at Monterey, and zillions of "Dawn Patrol" spectators on the grounds by 5 AM !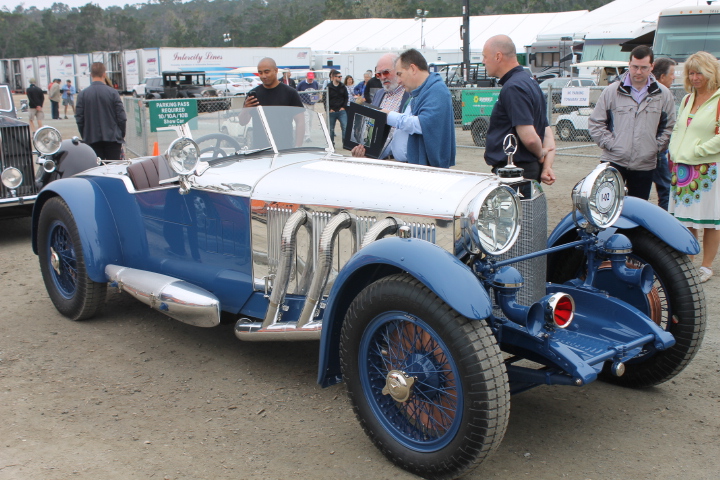 .
We didn't know it when this photo was taken at the start of Thursday's Tour d'Elegance, but this 1929 Mercedes S Barker Tourer would go on to win best of show.  The polished hood, pipes, polished decklid, Marchal headlamps and torpedo style runningboards go a long way to explain why everyone went crazy for this car!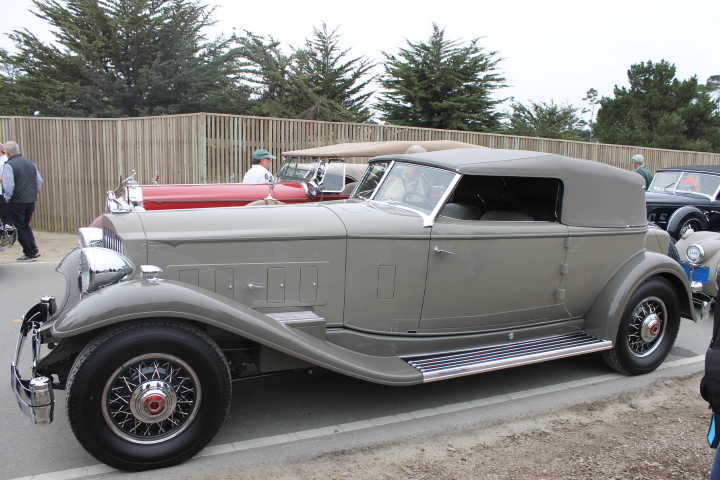 .
This 1932 Packard Twin-Six individual custom by Dietrich was a best of show contender too.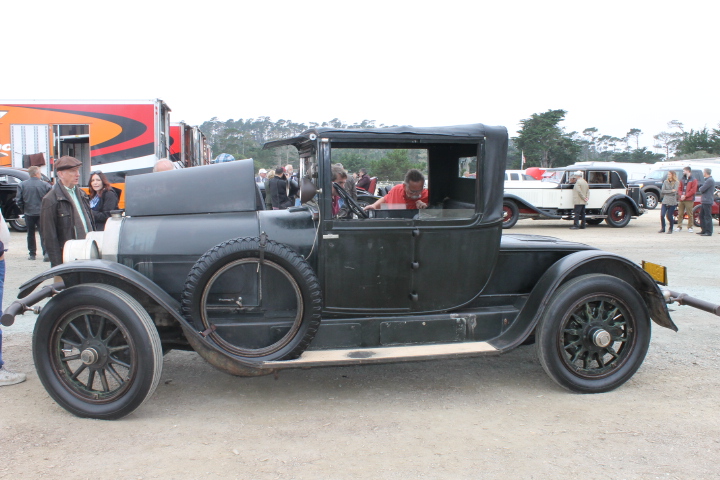 .
This 1916 Locomobile model 38 collapsible cabriolet had been in storage from 1930 to 2010 ! and was a preservation class entrant.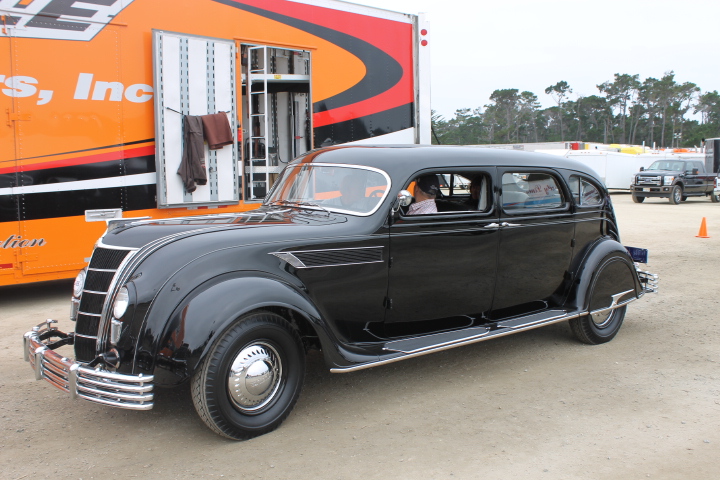 .
This 1935 Chrysler CW Imperial Custom Airflow is the only 1935 of this model left in existence! Note the first use of a curved windshield in any car, and it also pioneered automatic overdrive.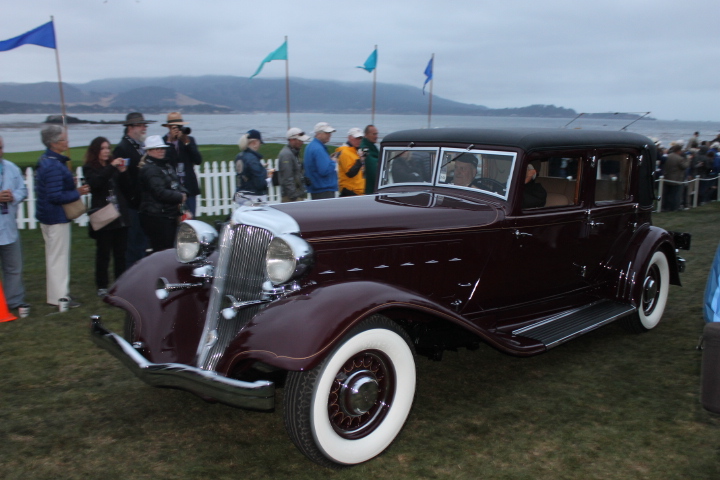 .
1933 Chrysler CL Imperial Custom LeBaron Sedan, a trophy winner in class – Note the padded roof, landau bars and sweeping fenders.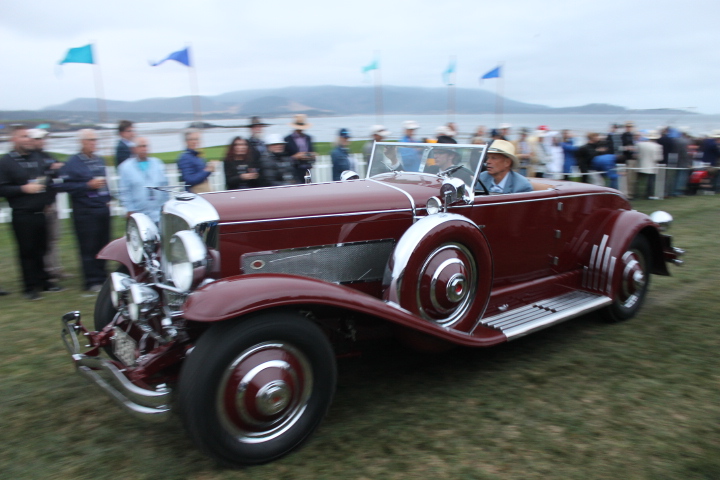 .
This 1931 Duesenberg J convertible coupe is a Murphy roadster with disappearing top, and a trophy winner in the Duesenberg class!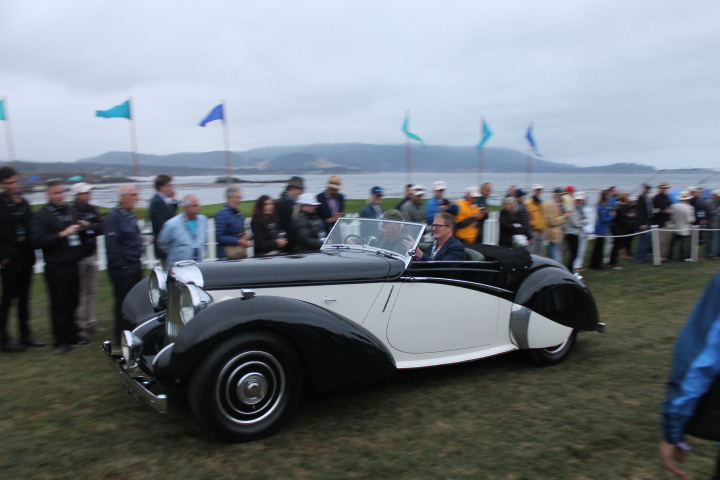 .
1938 Lagonda V-12 Rapide drophead coupe. Note the body line carrying through to the fenderskirt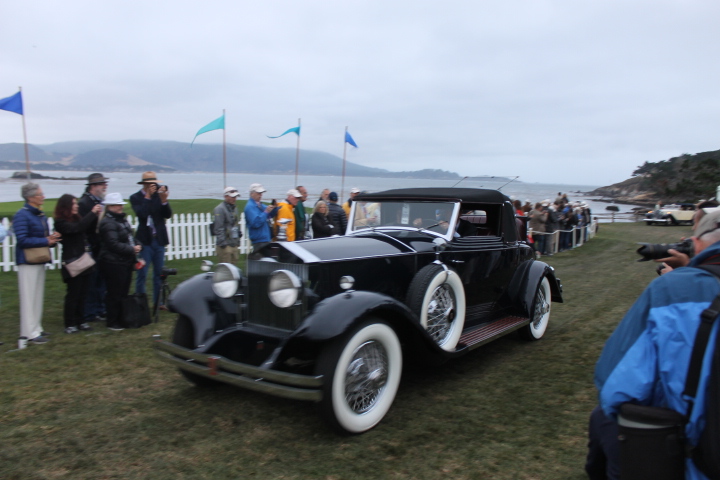 .
1929 Rolls-Royce Springfield P-1 Drophead coupe by Fleetwood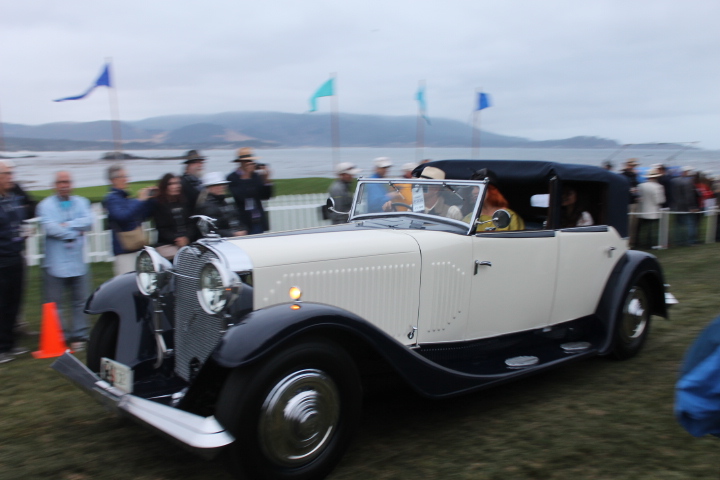 .
1931 Hispano-Suiza J12 by Saoutchik with Repusseau bumper.  Look at that bumper! I've never seen one, and it looks great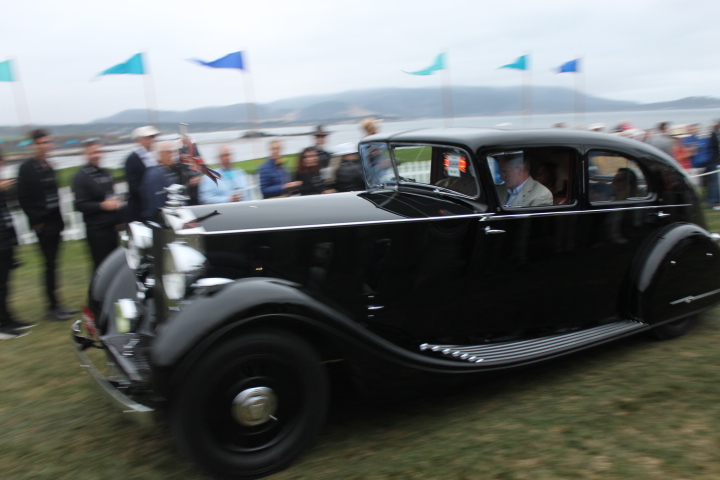 .
Note the rearward slant of the windshield on this 1936 PIII Rolls H.J. Mulliner Sports Limousine, with V-12 engine.  Many aircraft of the 1930's had rearward slanted windshields, apparently an aerodynamic theory of the era.  This car was owned for many years by field marshal Bernard Montgomery.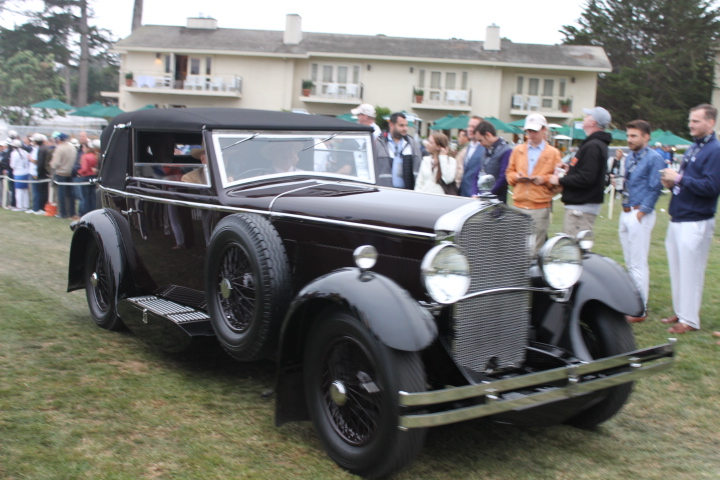 .
1930 Delage D8C Chapron Cabriolet. Wow – note the cycle front fenders, and wing root style runningboards!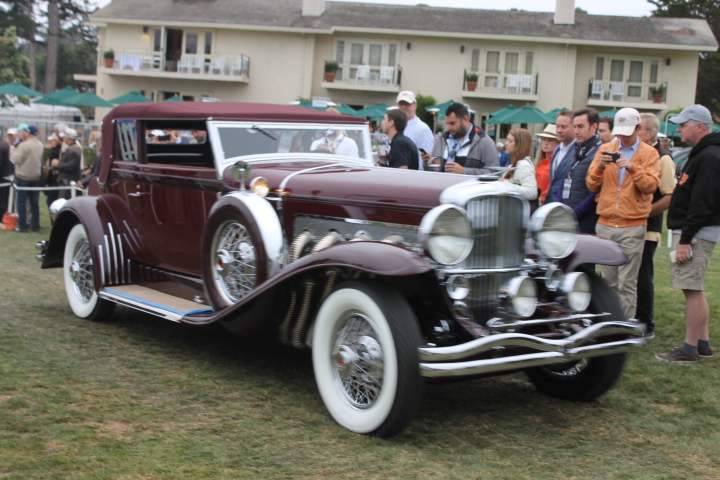 .
1930 Duesenberg Convertible Victoria by Rollston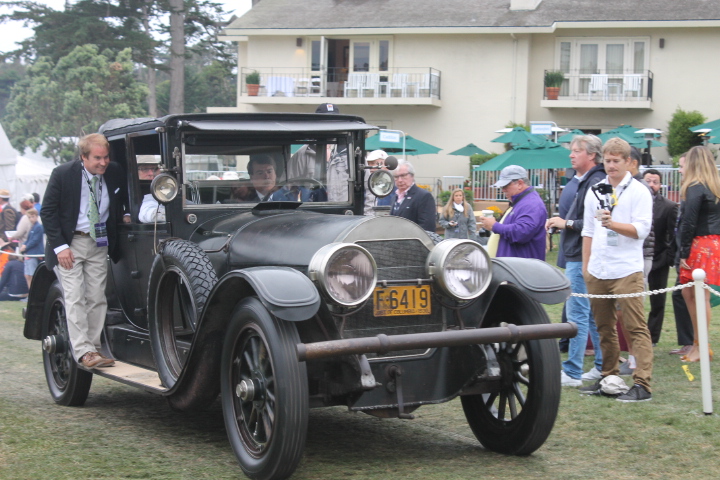 .
The 1916 Locomobile model 38 gained a hitchhiker! – That guy is really smart, it is a fairly long walk from one end of the show field to the other!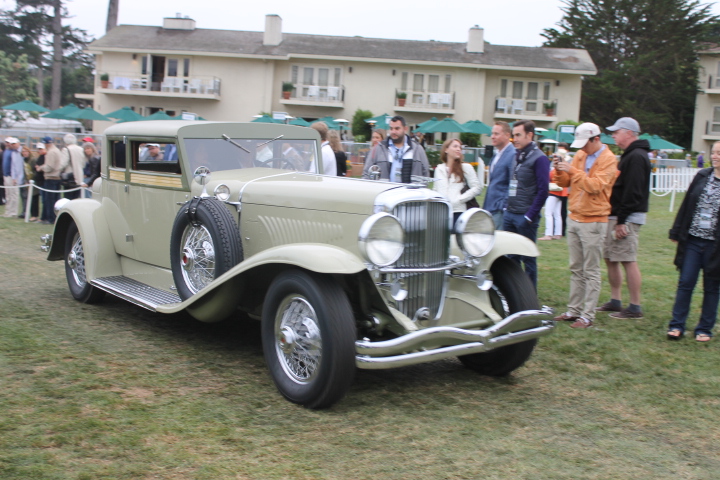 .
1932 Duesenberg J Judkins Victoria Coupe.  Note the low slung design and narrow windows.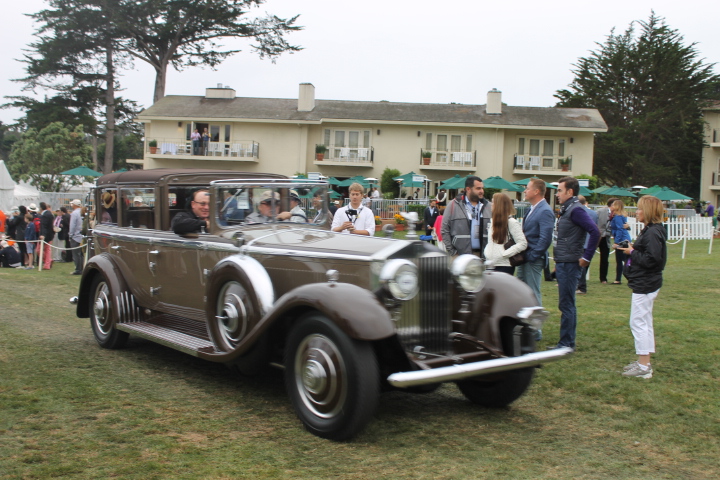 .
There were probably more Castagna bodied cars this year than any other because of the Isotta Fraschini feature. This, however is a 1933 Rolls Royce PII with a Castagna body.  The original owner started with an Isotta, and then had the Brewster body company transfer the Castagna coachwork to her new Rolls!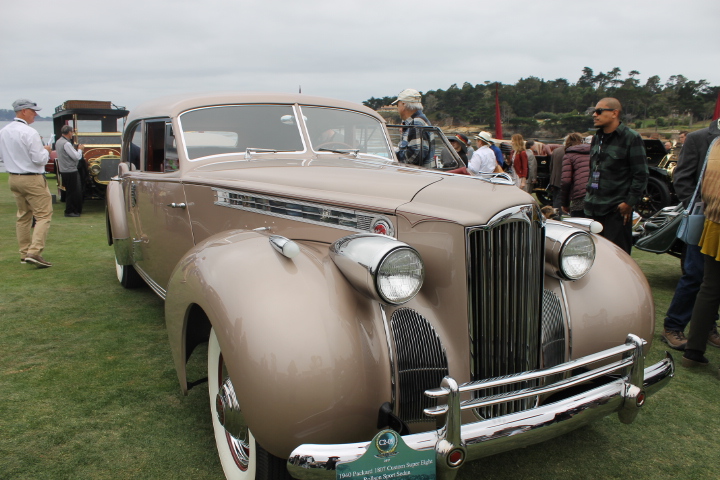 .
1940 Packard 1807 Custom Super Eight Rollson Sport Sedan, First in class for American Classic Closed.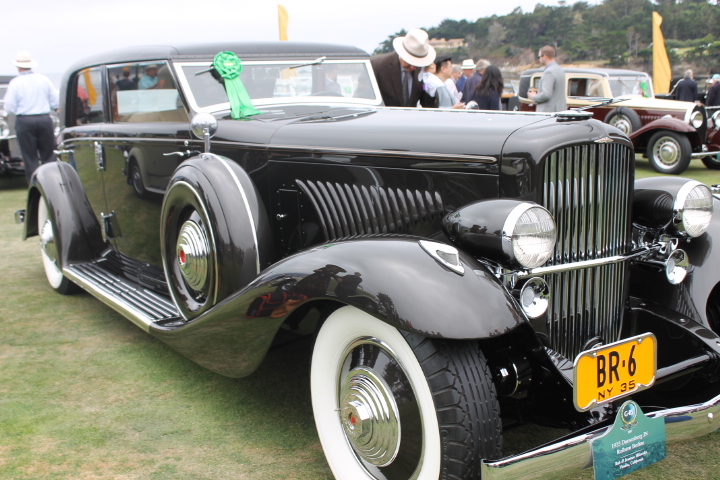 .
The 1935 Duesenberg JN Rollston Berline, J559, trophy winner in class.  This car was recently re-united with its original engine that had been swapped with J500, a Murphy Roadster now owned by the LA County Museum system.  There's a great story in the most recent CCCA magazine "The Classic Car" about the car and the effort to get the original engines back where they belong.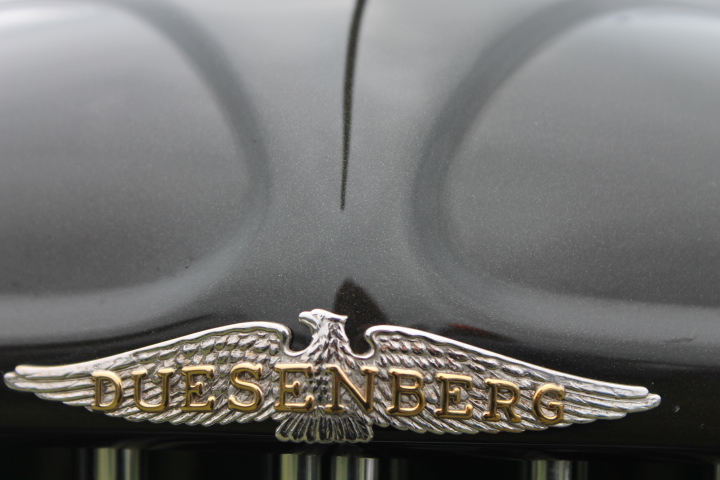 .
A beautiful Duesenberg emblem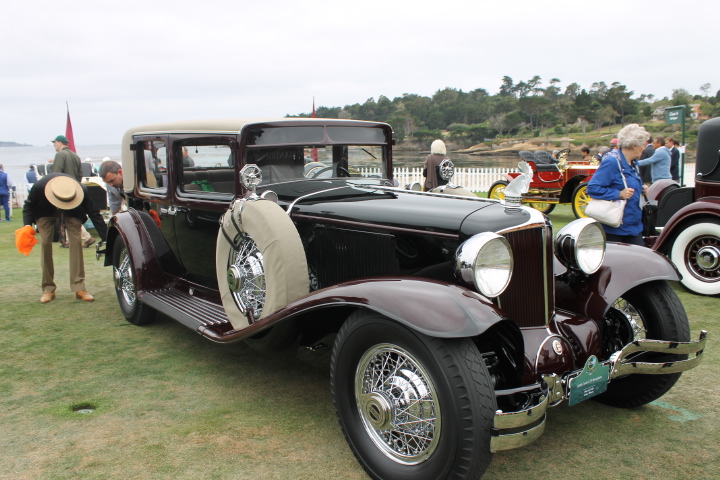 .
Beautiful 1930 Cord L-29 Brougham. One of the front wheel drive pioneers.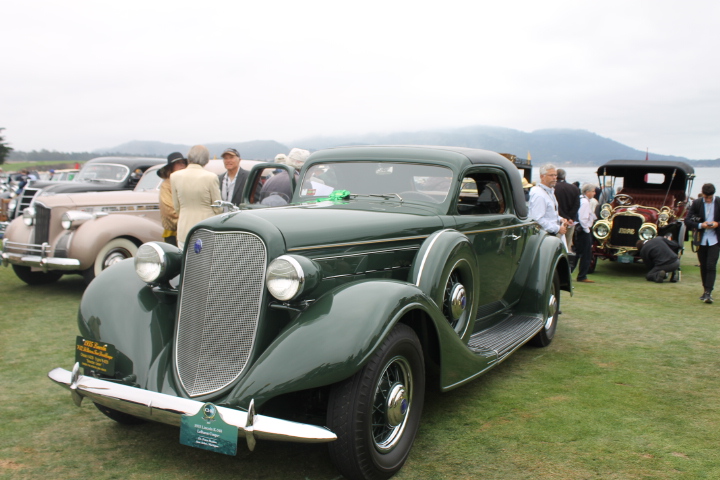 1935 Lincoln K548 LeBaron coupe – a sleek V-12 5000 pound 2 passenger car, or 4 passengers with the rumbleseat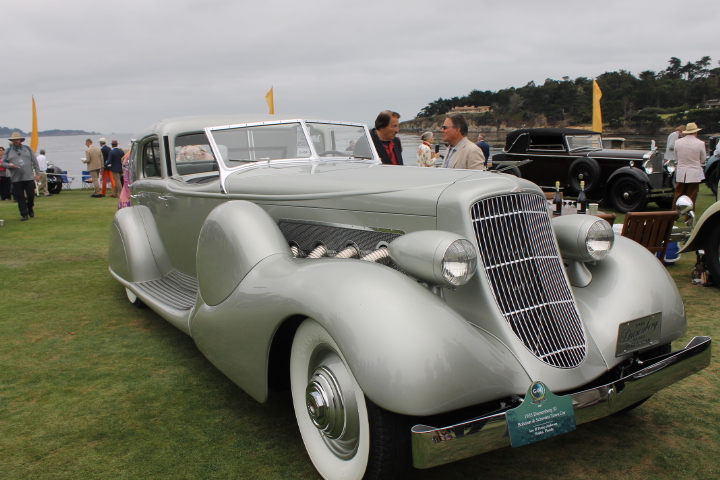 .
The 1935 Duesenberg SJ Bohman & Schwartz town car, first in it's class at the show.  Originally owned by Ethel Mars, of Mars candy.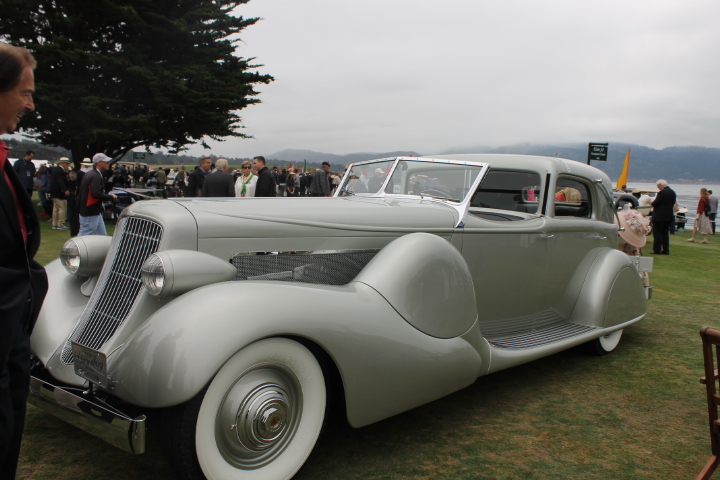 .
The styling trend had changed substantially from Duesenberg's 1929 Introduction to 1935, when this car was built. Bohman and Schwartz took advantage of the streamlined look to its full extent.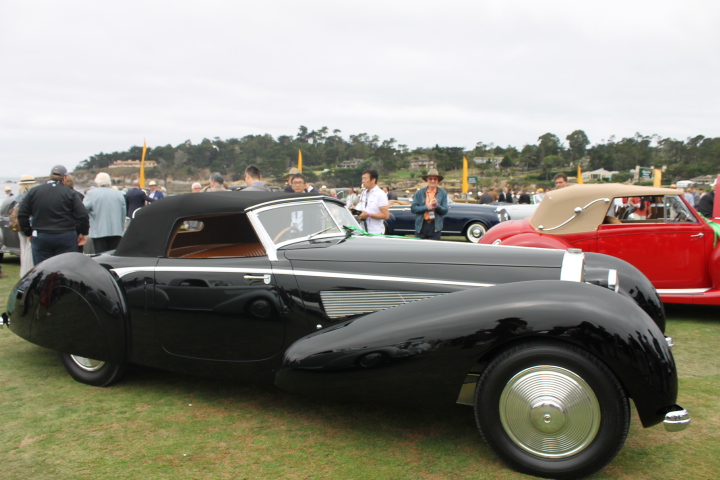 .
1939 Bugatti Type 57C Voll & Ruhrbeck cabriolet. One of my favorites of the show, and a first place winner in class.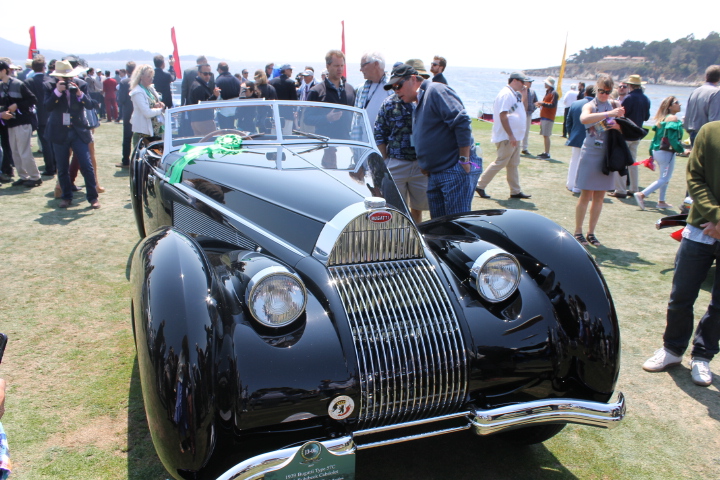 .
Here's the front of the '39 Bugatti – sometimes known as the "waterfall Grille" Bugatti.  Again, by the late 1930's streamlining was the trend, and if you, the coachbuilder were confronted by a flat, vertical radiator, you had to adjust it!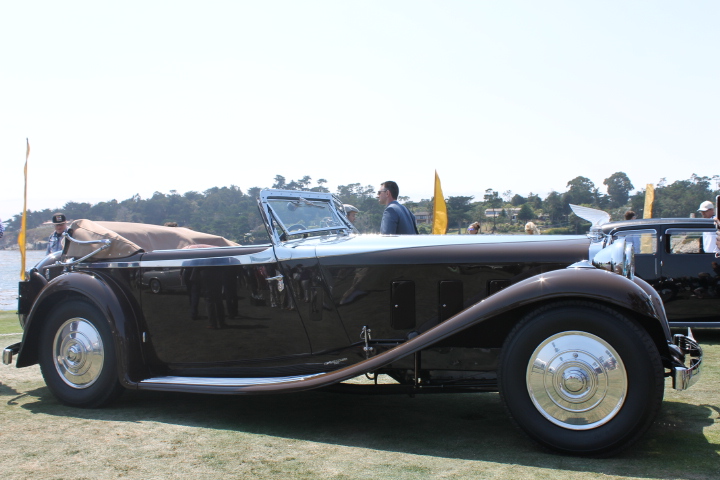 .
Very sleek 1934 Delage D8 S Fernandez et Darrin Cabriolet.  Dutch Darrin was brilliant, and this car is a great example, with polished aluminum hood and belt molding flowing the entire length of the car, and V windshield. Wow!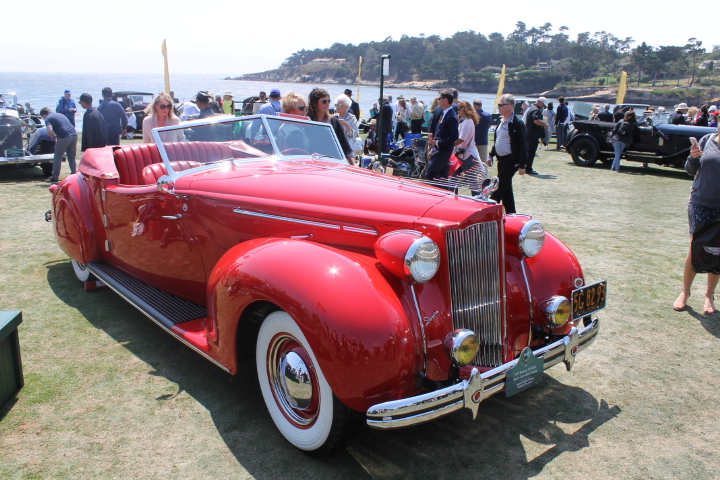 And speaking of Darrin, he had returned to the US after the dissolution of Fernandez et Darrin in Paris, and started building custom Packards. Here's one of the earliest examples, a 1937 Packard 120 Eight Darrin Convertible Victoria.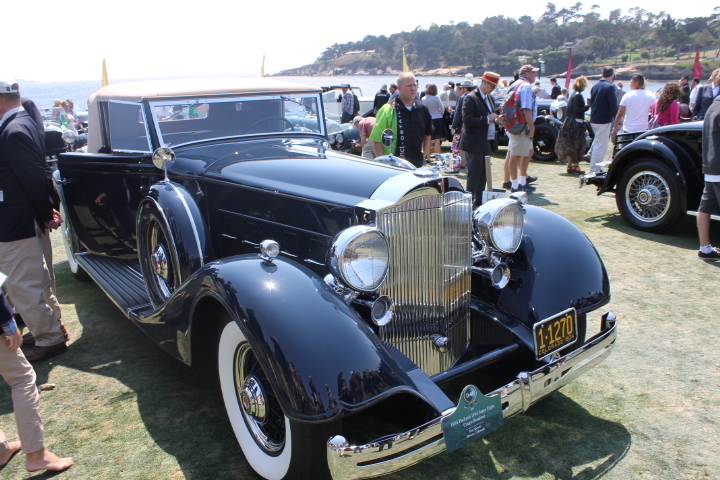 .
Here's the 1934 Super 8 1104 Packard Coupe-Roadster, with the same owner for 60 years!  This is the Fifth appearance at Pebble, starting in 1958 !  It was recently given its first total restoration.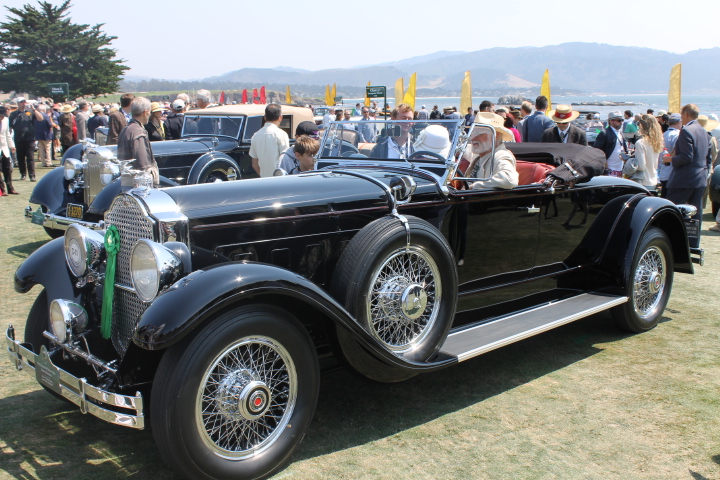 .
1929 Packard 645 Deluxe eight Dietrich Runabout. Wow!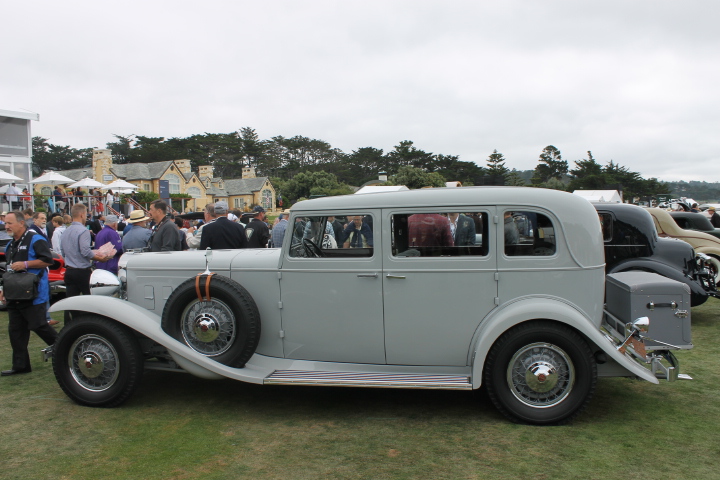 .
1932 Marmon Sixteen LeBaron Sedan.  This car was once driven in the Monte Carlo Rallye.
Stay tuned for more photos later!